---
---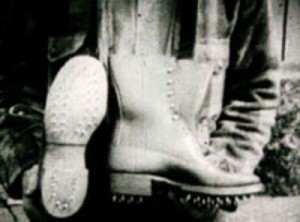 Date produced: 1930
Filmmaker(s):
Description:
"Depicts the year-round activities of the Machias Lumber Company on the Machias River in Washington County, Maine. Includes scenes of winter logging in the forest with hand tools and horses, as well as the spring log drive, with loggers using peaveys to break up log jams on icy rivers as the logs are moved from the forest to the mill. Includes footage of lumber loaded onto schooners in Machias for transport to New York and schooner being towed to sea by sardine boat." oldfilm.org
---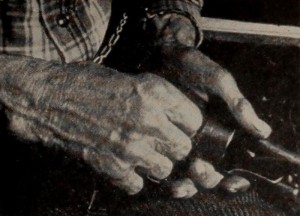 Date produced: 1952
Filmmaker(s):
Description:
"A western, in color, about a drifter looking for work and then falling in love with his employer's granddaughter." Church History Library.
---
Date produced: 1950
Filmmaker(s):
Description:
"In the Certificate Awards group, Ralph E. Gray, a consistent winner in national film competitions and recently honored with the title of Leading Amateur Movie Maker of the nation by the Movie Makers Club of Oklahoma and associated cine clubs, has turned in another of his superb filming jobs in 'Glamorous Guatemala.' A highlight is the excellent titling job, a department of movie making in which Gray excels. Gray opens his picture with scenes of modern day Guatemala, then gradually leads us into more remote areas of the country where he shows the native Guatemalan at work and at play, harvesting coffee, weaving, and trucking his wares to market, or indulging the religious ceremonials and market day festivities, which comprise his chief diversions. Gray filmed his picture using a Cine Special and Kodachrome film." American Cinematographer, April 1950, 134-135.
---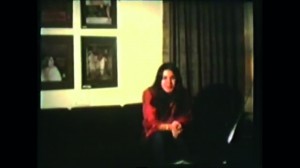 Date produced: 1979
Filmmaker(s):
Description:
"1978 yapımı Vedat Türkali'nin senaryosu yazdığı Süreyya Duru'nun yönettiği Güneşli Bataklık filminin kamera arkasında çekilen 1979 yapımı bir belgeseldir. İlk defa 1. Uluslararası İşçİ Filmleri Festivali kapsamında gösterilmiştir. Kaya Tanyeri tarafından festival komitesine verilen 8mm filmler, dijital hale getirilmiş 25 yıl sonra ilk defa gösterilmiştir." Sinematek.tv: http://sinematek.tv/gunese-donuk-kamera-1979/ (9 November 2019).
"It is a behind-the-scenes documentary of Güneşli Bataklık (1978) [Sun over the Swamp] whose scenarist is Vedat Türkali and director is Süleyman Duru, made in 1979. For the first time, The 1st International Workers' Films Festival screened the film. The 8mm film given by Kaya Tanyeri to the festival committee was digitized and screened 25 years after its production first." Sinematek.tv: http://sinematek.tv/gunese-donuk-kamera-1979/ (9 November 2019).
---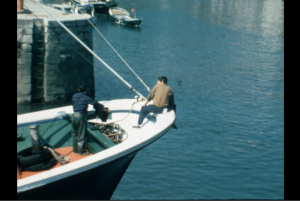 Date produced: 1978
Filmmaker(s):
Description:
Itsasoko bizimodua.

El filme retrata la forma de vida en la mar en Lekeitio

The film portrays the life on the sea in Lekeitio.
---
Date produced: 1935
Filmmaker(s):
Description:
"Burnford's picture was not only good from the documentary angle, but was very well photographed. It showed the lumbering industry in England starting with the felling of trees and then through the mills and then to the things built of wood, showing the most dramatic incidents." American Cinematographer, Feb. 1937, 73.

"Opens with various mature trees shown in full leaf. Men remove the bark from lower part of mature hardwoods and fell them with axes and long, two-man saws. Montage of falling trees. Bark prised from the fallen trunks. The torn-out root-base is sawn off and the trunks dragged from the forest by a team of heavy horses. The team drags the trunks onto the cart with the chain and the very largest trunks taken on a five-horse cart. At the lumber yard a large bandsaw divides the trunks in half and these are sliced. Men are show playing darts with the resulting, shaped, dartboards. SUB-TITLE - Harvest from over the seas. A ship - 'Karin Thorden' - docks, her decks stacked with timber already cut. Cranes transfer timber to barges, rafts and lorries. SUB-TITLE - For joinery. At the woodwork shop, specialised machines divide the wood into still smaller pieces and cut mortises and tenons and window frames are assembled. SUB-TITLE - For building. Workmen, on site, put up the roof timbers of a house. SUB-TITLE - For paper. Slow mixing of wood pulp. Smoothed out and rolled, dried and calendared. The large, wide rolls progress through the huge machines and sheets are slid off. SUB-TITLE - For music. Violin and Cello makers at work with hand tools, then a finished violin is played. SUB-TITLE - For flying. A bi-plane takes off. At the aeroplane factory, sections of the wooden wing frames are assembled, wing coverings doped. SUB-TITLE - For sailing. Large, J-class yachts tacking. J KI 7 featured. Finally, there are shots of mature, forest trees" (EAFA Database).
---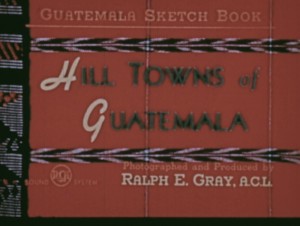 Date produced: 1942
Filmmaker(s):
Description:
"A narrated travelogue addressed to viewers in the U.S. shows life in several small towns surrounding Lake Atitlan, Guatemala. Shows rope making from sisal hemp and traditional textile weaving. Concludes with a visits to the outdoor markets in Santiago Atitlan and Chichicastenango" Indiana University Libraries Moving Image Archive.
---
Date produced:
Filmmaker(s):
Description:
"Un-staged documentary footage shot and edited by Sallie Wagner. Sallie's description of the film: 'Jimmy Hill flagging train at Chambers, Arizona, Post Office at Chambers, Bob Cassidy Postmaster, plane drop at Wide Ruins, Bill Cousins picking up package. Wide Ruins trading post exterior and interior, Bill and Sallie, Bill's office is original trading post of Day Brothers, Bill Cousins at front of airplane, crash of transcontinental racer on highway. Square dance, Eleanor Pratt in blue blouse near ladder, Jack Norton heavy set fellow, Phil Pratt extreme left, John Adair with back to screen, Dick Tryon [Tyron?] near rocks. Dwight Wagner - white shirt and tie near rose bush, Sallie in front of Spring house'." New Mexico State Archives.
---
Date produced: 1936
Filmmaker(s):
Description:
"'Japan and Its People,' Dr. Roy Gerstenkorn's educational class winner, was a pictured visit to the homes and temples of Japan. Ignoring the cities in his search for the story of the Japan that is not known to the average visitor the doctor penetrated the towns and smaller communities. His picture was awarded a high rating on its photography as well as on his treatment of the subject. After the showing of this picture before the Los Angeles Motion Picture Forum last summer the local school authorities requested and received permission from the doctor to make a duplicate of it for school purposes." American Cinematographer, Jan. 1938, 27-28.
---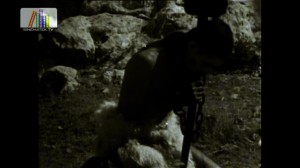 Date produced: 1969
Filmmaker(s):
Description:
"Ruhi Su ve Rahmi Saltuk türküleri eşliğinde yoksulluk ve emek sömürüsünü ve mücadeleyi, direnişi farklı, ilginç bir kurgu ile anlatmış. 13 dakikalık 1969 yılı koşullarını düşünerek izlemek gerekiyor." Sinematek.tv: http://sinematek.tv/kordugum-1969-2/ (15 Oct 2019).
"Accompanied by Ruhi Su and Rahmi Saltuk's folk songs, the film tells the story of poverty, struggle, and resistance in a different way, with an interesting montage. This 13-minute-long film requires audiences to acknowledge the contexts of the year 1969 in viewing." Sinematek.tv: http://sinematek.tv/kordugum-1969-2/ (15 Oct 2019).
---
Total Pages: 7