---
---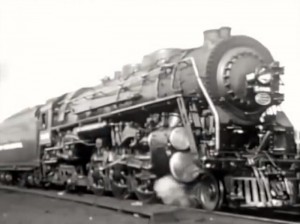 Date produced: 1944
Description:
"The Steam Locomotive, second release in the Know Your Railroad series, sponsored and produced by the Motion Picture Bureau of the New York Central System, is a worthy successor in this intelligent line of educational films. In it, Frederick G. Beach, supervisor of the bureau, has set forth in clean cut cinematography the design, construction, operation and maintenance of the famous Hudson type locomotive. An animated model of a steam cylinder explains the otherwise hidden functions of this key piece of machinery, while a soundly conceived narrative points up the film's visual teaching throughout. A stirring sequence showing these great coal eating giants at their daily tasks brings the picture to a dramatic close." Movie Makers, Dec. 1944, 495.
---
Date produced: 1970
Filmmaker(s):
Description:
"EL TERCER SUSPIRO. Separa de un grupo de paseantes en la Alameda a un joven que al aceptar la invitación a subir a un auto que le hacen tres desconocidos (identificados con el movimiento revolucionario de 1910, mediante un montaje de fotografías de la época), durante el paseo por el Periférico se ve acometido por una serie de evocaciones imaginarias. Primero se le ve huir del coche saltando a un paso de peatones, y ser acosado a través de casas derruidas. Al regresar al tiempo presente uno de los hombres le pone la mano en un revólver. Después se ve en un lugar desierto, penosamente sostenido en pie por un aparato ortopédico, mientras una marea creciente lo empieza a cubrir. En ese punto desciende del coche en marcha y se coloca en el centro de la carretera, amenazando con el arma a algo que se aproxima; pero antes de que se produzca el disparo evoca un encuentro amoroso. Esta acción se repite varias veces antes de disolverse en las imágenes de un lago que ahora lo ha cubierto todo"(Garmendia en Vázquez Mantecón, 2012).

"THE THIRD SIGH. Separates a young man from a group of pedestrians in the Alameda, when he accepts an invitation by three unknown men to get into a car (the men were identified with the revolutionary movement of 1910 through a photographic montage of the time), during the ride through Periférico, he is undertaken by a series of imaginary evocations. First he is seen running away from the car, jumping to a crosswalk, and being harassed through demolished houses. When coming back to the present, one of the men puts his hand on a revolver gun. Afterwards, he is seen in a desert place, shamefully sustained by an orthopedic device, while a rising tide starts to cover him. At this point he descends from the moving car and goes to the center of the highway, menacing with his gun something that is approaching; but before the shot is produced, a loving encounter is evoked. This image is repeated several times before dissolving into images of a lake that has now covered everything" (Garmendia in Vázquez Mantecón, 2012).
---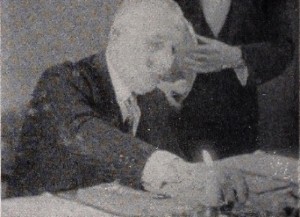 Date produced: 1948
Description:
"When a preaching film turns out to be entertaining, the advice it offers is more likely to be remembered and heeded. In Time To Consider, a film that advocates bicycle safety, the Fourfold Film Society dramatized its subject with delightful imagination and refreshing use of the black and white medium. A pompous gentleman, after being splashed by a bus on the way to his club, vents his ire by "writing to the Times." A messenger takes the envelope, which is addressed simply Time," and starts off on his bicycle, only to be run over in traffic. The film then switches to fantasy, as the messenger, dressed now in white livery, delivers the letter to Father Time's heavenly establishment. Father Time, peering at a celestial television screen, observes the various traffic mistakes that mortals make and, between sequences showing unwise behavior, he dictates the rules of proper procedure. The production's few scenes of uneven exposure are more than made up for by its rich imagination, excellent cutting and refreshing camera treatment." Movie Makers, Dec. 1948, 495-496.
---
Date produced: 1969
Filmmaker(s):
Description:
"An entertaining documentary of the narrow-­gauge train ride from Durango to Silverton, Colorado. Spectacular aerial views add to the impact." Oldfilm.org
---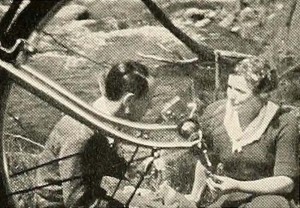 Date produced: 1937
Filmmaker(s):
Description:
"The current and widespread revival of interest in cycling is the subject of Under Your Own Power, by Sidney Moritz. Carefully planned, attractively photographed in color and neatly edited, the production is a pleasing and happy record of bright days in the summer sun. Mr. Moritz has shrewdly remembered in his film the predominant human interest of this leisured sport, as well as the lovely scenic vistas to which it leads, and has embroidered both of these subjects with distinctive angles and some successful "effect" shots framed by cycle wheels. Amusing, effective and well worded titles in color round out this highly entertaining etude of modern wheeling." Movie Makers, Dec. 1937, 630.
---
Date produced: 1966
Filmmaker(s):
Description:
Stan Midgley travels by bicycle through Utah in this "chucklelogue."
---
Date produced: 1937
Filmmaker(s):
Description:
"A Vacation with Lucy Carlisle, Margaret Pinkham, Virginia Carlisle." oldfilm.org
---
Date produced: 1929
Filmmaker(s):
Description:
"West Virginia, the State Beautiful is organized as a series of scenic vignettes taken during an auto trip eastward on Route 60, known as the Midland Trail .... This route, first proposed by George Washington in 1783, had been upgraded for automobiles in the 1920s and is portrayed here as a source of civic pride. Rev. Snodgrass probably screened his 75-minute travel documentary for church and civic groups. The five excerpts included here begin with the start of the tour in the border town of Kenova, whose name is laid out in an intertitle ("KEN. O. VA.") to drive home its derivation from the first letters of the states the town touches: Kentucky, Ohio, and (West) Virginia. In Huntington, Route 60 runs down busy Fifth Avenue and past the International Nickel Company, opened six years earlier and rightly labeled in the titles as the world's largest nickel alloy plant. Farther east in the higher Appalachians are glimpses of sheer "LOVER'S LEAP" cliffs (before the Hawks Nest Dam was built in the 1930s) and lumber-industry trains geared for the steep hills. Rev. Snodgrass closes with a homemade sing-along slide for the state song, "The West Virginia Hills."" —Scott Simmon
---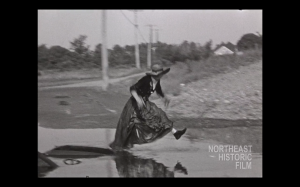 Date produced: 1937
Filmmaker(s):
---
Date produced: 1960
Filmmaker(s):
Description:
"Stan Midgley returns again, this time presenting the "Yellowstone Tetons and Glacier Park." In the wonderful northwest corner of Wyoming you can see spectacular mountains, beautiful lakes, canyons, waterfalls, wild animals and more natural wonders than a tourist can see in a month. There are superb pictures of most of the world's greatest geysers and the changes made by the great 1959 earthquake with before and after pictures. There is Earthquake Lake and its notorious landslide. The Cooke City Red Lodge Highway over the Beartooth Mountains —Ghost Towns and modern towns of Western Montana —Glacier Park, beautiful from the highway, incomparable from the wilderness trail. The ending comes in the golden glory of autumn." Central Union Reaper, Sept. 27, 1966, 3.
---
Total Pages: 4