---
---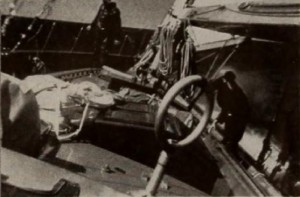 Date produced: 1953
Filmmaker(s):
Description:
"Lovers of boats and devotees of movie making alike will probably never see enough of Rochester Race, produced by Walter F. Chappelle jr. in the summer of 1952. For this picture is one of the most complete and authentic records of big-league yacht racing that has been produced to date. For big league indeed was the 72 foot yawl Escapade, owned by Wendell Anderson of the Detroit Yacht Club and sailing as scratch boat in the Rochester point-to-point race westward to Hamilton, Ont., eastward to Stony Point Light, and then back to the Rochester inlet. And big league too was Mr. Chappelle's detailed coverage of this grind, as the proud beauty — with a crew of fourteen and 2630 square feet of working sail area — barreled through heavy seas, slatted and drifted in the calms — but came home by 38 seconds the winner. Working under difficult (and often dangerous) conditions, the producer nevertheless achieved a variety and quality of scenes which are amazing. His handling of side or back lighting, as a big Genoa or spinnaker jib arched out from the Escapade, creates many moments of breath-taking beauty. With Rochester Race Mr. Chappelle has proved beyond the cavil of superstitious yachtsmen that a fine movie may be made on a fine racing craft — and yet still win the race." Movie Makers, Dec. 1953, 332-333.
---
Date produced: 1939
Filmmaker(s):
Description:
Amateur film footage of King George VI and Queen Elizabeth in Victoria, B.C. during the 1939 royal tour of Canada.
---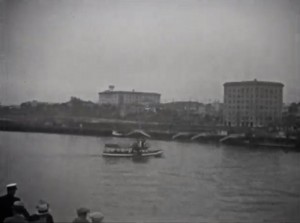 Date produced: 1934
Filmmaker(s):
Description:
"Footage of various places in Southern California and Mexico." Archive.org
---
Date produced: 1938
Filmmaker(s):
Description:
"Shows Don and Phyllis Munday family travelling from Vancouver to Prince Rupert on the S.S. 'Cardena', including a long stop at Bella Coola, and climb up Mount Saugstad" British Columbia Archives.
---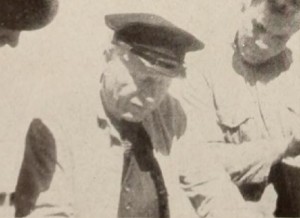 Date produced: 1947
Filmmaker(s):
Description:
"Bringing the flavor of Europe and its people that we all like to remember, Skibet, Danish for ship, tells the story of the building of the G. C. Amdrup, a modern motor vessel with a wooden hull. The saga is carried from cutting the massive tree which becomes the keel of the ship to the final addition of paint and superstructure. Mown in from Denmark to the Danish Consulate in New York City, and from there transported to Movie Makers office, Otto Wilhjelm's film portrays the incredible amount of hand labor used in constructing a ship without the help of modern power equipment, considered a necessity in the United States. It provides the nostalgia of a great individual craftsmanship. As to the G. C. Amdrup herself, it seems safe to say — after watching the solid chunks of wood being sawed, planed and bolted snugly to the crossbeams — that she will be sailing her northern run long after our Victory ships have rusted away." Movie Makers, Dec. 1947, 534.
---
Date produced: 1960
Filmmaker(s):
Description:
"Edited film by Floyd Henry Wells, a retired salesman and a member of the Wally Byam Caravan Club of Airstream trailers, chronicling travels through Tahiti, Fiji and Samoa including scenic views, dance and martial arts displays, cruise ship Mariposa, shipboard activities, underwater photography, collecting sponge or coral, lagoon, market, harbor scenes, outriggers and urban scenes," Human Studies Film Archives, Smithsonian Museum.
---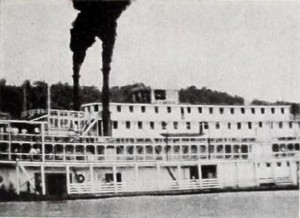 Date produced: 1942
Filmmaker(s):
Description:
"The romance and color of a trip down the Ohio River on one of the Greene Lines few remaining flat bottomed passenger steamers are used to good advantage by Sidney Moritz in Sternwheeler Odyssey. The variety of the passing landscape, stops at wharves en route, with all the confusion of ropes, cargo and roustabouts, and general views of the stately river traffic plying the waterways gives this friendly little picture a touch of glamour. On board, the passengers and crew including "Ma" Greene, America's only woman river captain, present lively camera material. The churning paddle wheel, filmed from various angles, and the cascading waters that flatten into arcs of waves in the wake of the boat, become a motif that sustains the feeling of a ship in motion throughout the picture." Movie Makers, Dec. 1942, 508.
---
Date produced: 1929
Filmmaker(s):
---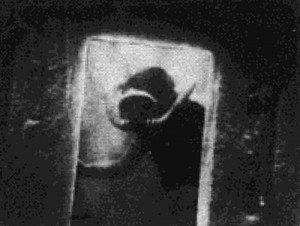 Date produced: 1965
Filmmaker(s):
Description:
"Tobermory Shipwrecks provides some good views of sunken ships in the Tobermory region, located at the northern tip of the southern Ontario peninsula that separates Lake Huron from Georgian Bay. Much of the underwater photography is well done, and the producer gives tips on underwater photographic equipment and how to use it" PSA Journal, Sept. 1965, 51.
---
Date produced: 1940
Filmmaker(s):
Description:
"Coastal people, places and scenery between Vancouver Island and the mainland. Includes footage of Indian villages, pictographs, birds and wildlife, logging operations, other vessels, etc. One sequence shows a Kelly raft of aviation spruce being broken up; another shows logs being unloaded from the log barge 'Monongahela' (formerly the ship 'Balasore', whose figurehead is shown sitting on shore). The B.C. Packers cannery at Quathiaski Cove is shown. Troops arrive at Nanaimo from Vancouver on the 'Princess Victoria' and parade through the streets" British Columbia Archives.
---
Total Pages: 5