---
---
Date produced: 1966
Filmmaker(s):
Description:
"Stillborn, also winner of the MPD Student Film award for the best film made by a student enrolled in a college course in cinematography, is an experimental film at times abstract in its execution. It tells the story of a boy and girl who meet out in the middle of nowhere. As he looks upon the young girl's face he imagines what life with her might be like. His imagination runs wild as he thinks of the blissful episodes such as marriage would bring, as well as the entrapment he could suffer. At film's end he makes his decision. Use of the negative image for one sequence is extremely effective" PSA Journal, Sept. 1966, 34.
---
Date produced: 1954
Filmmaker(s):
Description:
"Mathis Kverne returns to the winner's circle with another delightful and imaginative animated cartoon, Strokets Kavalerer—which has been translated for us "Main Street Romeos." This time we meet two boy paint brushes who try, with varying degrees of success, to win the hand of an attractive girl brush. One, a wordly boulevardier, plies her with costly presents, while the other, a real booby, offers her naive, if presumptuously intimate, gifts. When the lady has at last been won—by the booby, of course—we follow the happy couple through their marriage and the birth of their first born, a yellow brushlet of undetermined sex. Although this film may not captivate the viewers as completely as did Mr. Kverne's Muntre Streker (Ten Best 1952) that picture's promise is more than fulfilled. The animation here is smoother in all respects, the development of the story line more definite and the personalities of the individual characters more precisely realized. The result is a film of lighthearted charm which will enchant one and all. And puzzle them too, for the animated methods used by Kverne are still his own secret!" PSA Journal, Jan. 1954, 49.
---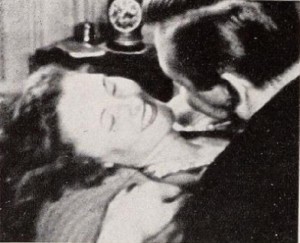 Date produced: 1942
Filmmaker(s):
Description:
"Novel continuity, beautiful cinematography and a nosegay of feminine charms are the distinctive features of Ten Pretty Girls, produced by Anchor O. Jensen. This expert little drama, made on 8mm Kodachrome, is an excellent example of quality workmanship in that width. The opening scene shows a young man contemplating his address book. He folds a large piece of paper and cuts from it a string of ten dolls, which become the symbols of as many lovely young women. As each doll is torn from the group, a new sequence featuring one of the girls is introduced. A different flower, corsage or bouquet figures in the action as each of the girls is shown in some individual and flattering setting. At the conclusion, the young man has made his choice; he spurns the blondes and brunettes for the favors of a titian beauty." Movie Makers, Dec. 1943, 474.
---
Date produced: 1967
Filmmaker(s):
Description:
"They Who Touch, an award winner in past International Festivals, is an experimental, symbolic film depicting the love play of a young boy and girl. Different people get different interpretations from the hands of the young couple which are featured in this film" PSA Journal, Aug. 1967, 37.
---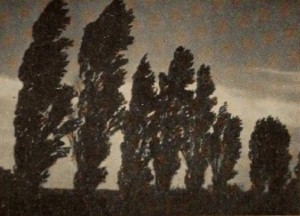 Date produced: 1949
Filmmaker(s):
Description:
"In Trilogy, Timothy M. Lawler, jr., submits an interesting and, for the most part, successful effort to match romantic verse with appropriately emotional scenes. For his verse, Mr. Lawler has used Kilmer's Trees, Malay's The Wide World and Shelley's Love's Philosophy. The moods of the movie footage are excellent. The verse suffers a little, however, because it is released on the screen (or in narrative readings) a couplet at a time, at varying intervals, thus breaking into the overall rhythm. On the whole, however, Trilogy is a good approach to an attractive and difficult ideal." Movie Makers, Dec. 1949, 471.
---
Date produced: 1968
Filmmaker(s):
Description:
"Film is a mostly animated cartoon featuring an animated woman and men. The film backdrop often features life images of an old house in winter. The film begins by showing a few pages from the Dec. 7, 1867 'The Milkspur Beacon' newspaper. The woman is in the middle of getting married when she decides to run away. After going back and forth between at least two men, she gets married again" Archives of Ontario.
---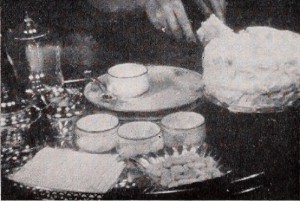 Date produced: 1948
Filmmaker(s):
Description:
"Out of his own experience and happy recollections, Sidney Moritz presents in telling terms a warm and affectionate recounting of the marriage and honeymoon. A bright sun filtering through the stained glass of the church lights the solemn exchange of vows amidst swelling organ tones. The scene dissolves to preparations for the honeymoon, the contentment of a pastoral setting, the first months of life together, the small details that contribute to gracious living, and finally a fond recalling of the beginnings — the stained glass and sunlight, two people in love, the music and the prayer. A sympathetic scoring complements this sincere and moving record film." Movie Makers, Dec. 1948, 496.
---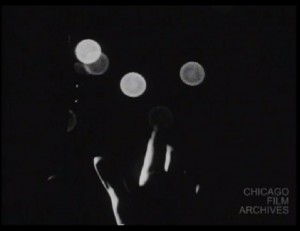 Date produced: 1969
Filmmaker(s):
Description:
"This film seems to pick up the same couple from "I've Got This Problem" (played by Don Klugman and Judy Harris) a few years later, as they attend a swinging bohemian party where they pilfer personal objects from the unsuspecting guests." Chicago Film Archives.
---
Total Pages: 4