---
---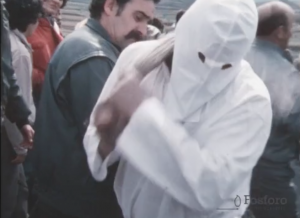 Date produced: 1976
Filmmaker(s):
Description:
El filme muestra una procesión católica en la que hombres cargan esculturas de la Virgen y Cristo cargando una cruz. Cientos de personas caminan con ellos, incluyendo unos cuantos hombres vestidos de blanco, con máscaras y la espalda descubierta, que caminan de espaldas mientras se auto-flagelan. Se muestran diversas imágenes de estos hombres golpeándose a sí mismos, gente caminando junto a las estatuas y un hombre con una máscara blanca y una túnica café que muestra una cruz en la espalda; este hombre en particular camina sin zapatos y con cadenas alrededor de sus pies. Casi al final del filme, los hombres vestidos de blanco van ante un sacerdote que pica sus espaldas con un pequeño instrumento hasta que sangran, para después continuar auto-flagelándose. La película termina con imágenes de la procesión aún avanzando.

The film shows a Catholic procession in which men carry sculptures of the Virgin and of Christ carrying a cross. Hundreds of people walk along with them, including a few men all dressed in white, with white masks and their backs uncovered, that walk backwards while they are self-flagellating. The film contains several images of this men beating themselves, people walking along with the statues and one man with a white mask and a brown gown with a cross on the back; this particular man walks without shoes and has chains around his feet. Almost at the end of the film, the men dressed in white go before a priest that punctures their backs with a small instrument until they bleed, afterwards, the continue to self-flagellate. The movie finishes with images of the procession still advancing.
---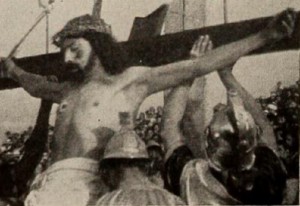 Date produced: 1946
Filmmaker(s):
Description:
"It is a platitude that there is more in Mexico than meets the eye. In Quaint Old Mexico, however, Guy Nelli proves that there is far more in Mexico than usually meets the camera. Mr. Nelli presents the gradual awakening of Mexico, as the farmers drive their produce to market, with a startling sense of early morning atmosphere; market scenes are developed lucidly and effectively. The high peak of the film is reached with a most remarkable sequence of religious festival shots, as virtually an entire village re-enacts the Stations of the Cross. The intense religious emotion evident in these scenes has rarely been caught for the screen. Mr. Nelli's film is outstanding for its fresh approach and, above all, for the natural and casual quality of its shots." Movie Makers, Dec. 1946, 488.
---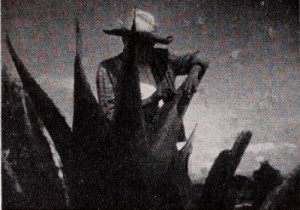 Date produced: 1948
Filmmaker(s):
Description:
"Alan Probert has confined his study of Mexico to the primitive Otomi Indians. With startling clarity and a fine cinematic eye for detail, he presents the tribal group in a series of sketches that reveal the age old customs of their forefathers still in daily use — sowing and reaping, spinning and weaving, trading and worshipping. Remnants Of The Past is an expertly filmed factual account of the subject, which would have gained considerably from greater unity and a stronger ending." Movie Makers, Dec. 1948, 494.
---
Date produced: 1963
Filmmaker(s):
Description:
"This amateur film attempts to portray conflict within a religious sect where blind adherence to a selfish demanding leader is compared to the freedom offered by progressive contemporary society" Library and Archives Canada.
---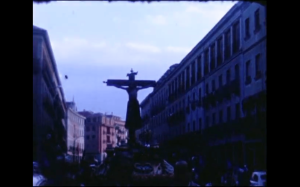 Date produced: 1969
Filmmaker(s):
Description:
Documental sobre la Semana Santa en una ciudad de Castilla, donde la paz contrasta con la violencia de otras partes del mundo.

Documentary about the Holy Week in a city of Castilla, where peace contrasts with the violence lived in other parts of the world.
---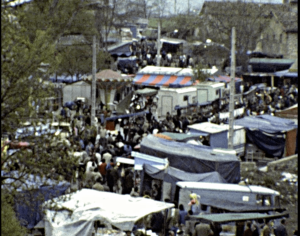 Date produced:
Filmmaker(s):
Description:
El filme describe el día de San Prudencio y las actividades que se realizan alrededor de este. La riqueza gastronómica, cultural y religiosa de la región es descrita a través de este documental que nos muestra el día de la romería y las costumbres y tradiciones alavesas.

The film describes San Prudence's Day and the activities around it. The region's richness of gastronomy, culture and religion is described through this documentary that shows the pilgrimage day as well as customs and traditions from Alava.
---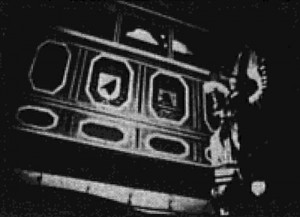 Date produced: 1966
Filmmaker(s):
Description:
"Soli Deo Gloria illustrates the matter-of-fact life led by the inhabitants of a small farming village in Lower Saxony (West Germany) and centers, as their lives do, on the village church that dates back to the 14th Century. Inside are sculptured works of art, and it is these treasures that the film seeks to bring to the attention of the outside world, as well as the importance the church plays in the life of the local peasants" PSA Journal, Sept. 1966, 34.
---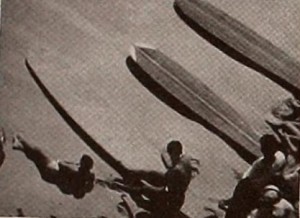 Date produced: 1941
Filmmaker(s):
Description:
"Dan Billman, jr., has told you in the September number of this magazine how he came to make South of Honolulu. What he could not possibly put into words is the outright and amazing entertainment value of this elaborate record. Hawaii, for the Billmans, meant far more than the Aloha Tower, Diamond Head and the Kodachrome set piece of weekly hula dancing. In their place this adventurous couple found — some 200 miles south of Honolulu — the calm beauty of native life, the exciting patterns of native fishing and feasting and the exotic loveliness of tropical blooms against their true backgrounds. For them, no filming task seemed impossible. Their achievements range from an amusing sequence of the "'sea going" cowboys of the Hawaiian coast, to a striking and incredible study of religious ceremonies within a Buddhist temple. Mr. Billman's beautifully filmed production, accompanied throughout with sound and music personally recorded in the Islands, has the full bodied stature of mature screen entertainment." Movie Makers, Dec. 1941, 564.
---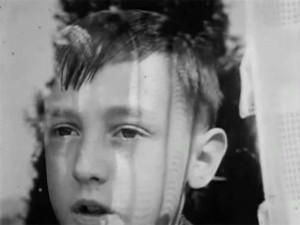 Date produced: 1939
Filmmaker(s):
Description:
"In a few days of doldrums before being called for training in the Army Signal Corps, David S. Bradley, presiding genius of Bradley Productions, scenarized, cast, costumed, filmed and directed a screen version of Sredni Vashtar, a short story by Saki. running 800 feet of 16mm. monochrome, the picture is the eighth in the series to be produced by this unusual amateur unit of Winnetka, Ill. having been directly preceded by Peer Gynt and Oliver Twist. It will be Mr. Bradley's last production until after the war. Working with him on Sredni Vashtar was John Jameson, assistant director, with the small cast played by Mrs. Herbert Hyde, Lucielle Powell, Lois Northrop and Reny Kidd, all Bradley Production veterans", Movie Makers, Apr. 1943,158.
---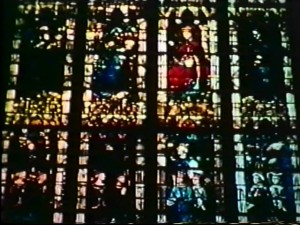 Date produced: 1932
Filmmaker(s):
Description:
"Studies in Blue and Chartres Cathedral, a cerulean cinema achievement, one 400 foot reel in full Kodacolor by John V. Hansen, ACL, shows what an artist's and a colorist's eye can select and record. While this film is in some sense a travel record, Mr. Hansen definitely made it a point to choose those scenes and vistas that revealed the open sky, whether seen in patches through the interlaced branches of trees or as a dim, distance haze, shimmering up from the tops of far off mountains. Here are deep blue skies overhead, merging into white mist at the horizon, apple green, azure, so many hues that it is a revelation to see that a mechanical process can so beautifully record nature. Mr. Hansen presents to the audience's eyes such a varying kaleidoscope of blending colors in his continuity that it is difficult to do the entire effect justice by mere description. But among his outstanding technical achievements are the recording of sunlit glades in a dense forest, especially effective cloud and sunset shots, distant and close shots and side lighting and backlighting in profusion. A further, outstanding triumph in color technique was shown in Mr. Hansen's recording of the vivid, glowing hues of the stained glass windows, taken from the interior of the cathedral at Chartres. Here, he succeeded in capturing that peculiar, deep dyed transparency found only in the colors of old stained glass. It is questionable if any other method of reproducing color can give such a real and beautiful rendition of stained windows as the motion picture. Certainly no color printing process can compete. The film was rounded out by some charming long shots of the carefully cultivated, rolling hills of Denmark." Movie Makers, Dec. 1932, 538, 560.
---
Total Pages: 6