---
---
Date produced: 1952
Filmmaker(s):
Description:
"Film of members of the Toronto Movie Club filming fruit tree blossoms and scenery at the Woodley family property at West Hill." Library and Archives Canada.
---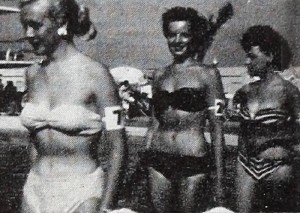 Date produced: 1951
Filmmaker(s):
Description:
"A bathing beauty parade in Florida, blessing the fishing fleet at Gloucester, a tomato throwing fight in — well, it doesn't matter. These are not, to be sure, true scoops in the journalistic sense of the term. But they do constitute what passes for news these days in the newsreels; and, under George Merz's competent camera treatment and incisive cutting, they most certainly make for good movies. Mr. Merz sustains audience interest throughout Movie News Scoops, working in a film form — the topical newsreel — which the amateur generally has found difficult." Movie Makers, Dec. 1951, 412.
---
Date produced: 1948
Filmmaker(s):
Description:
"This film shows Charles Devenish Woodley making a film." Library and Archives Canada.
---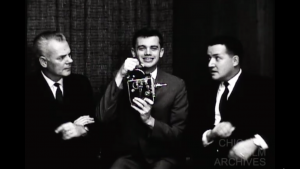 Date produced: 1950
Filmmaker(s):
Description:
"Amateur film in one continuous shot parodying a talk show, where the guests promoting an Institute of Amateur Cinematographers (IAC) gathering in the next year get carried away with their enthusiasm, much to the chagrin of the host." Chicago Film Archives
---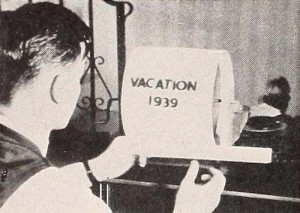 Date produced: 1939
Description:
"When movie makers turn to movie making itself as the subject of a picture, sometimes they are a little self conscious and heavy handed — more particularly if the approach is humorous. This fault, the Dallas (Texas) Cine Club has successfully avoided in Out to Win, an opus that displays the adventures of a new convert to filming. The hero of the tale observes that everybody has a movie camera and that he is out of things. So his trombone and the equipment of other hobbies go to the "hock shop" to finance the purchase of a new cine camera. His wife isn't particularly sympathetic to movie making, and here the real humor enters, for Mrs. Movie Maker is not antagonistic; she is just oblivious to the real importance of movies. She walks in on her husband when he is developing titles, she tramps through film clips when he is editing; but, when the movie maker receives an incredible sum for a newsreel scoop (well handled airplane wreck sequence) and, in consequence, gets a check that enables the pair to buy a new car, Mrs. Movie Maker's attitude changes. In the last scene, she is proudly using a camera. The actors are excellent: they do not overplay their roles, and so the film is really funny." Movie Makers, Dec. 1939, 634-635.
---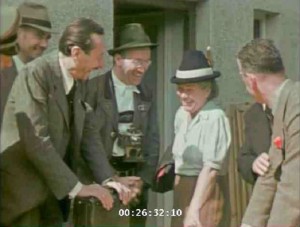 Date produced: 1943
Description:
"This outing was shot by a baker who supplied bread to Dachau concentration camp. . . . Another title reads: 'Der Ausflug des BDFA, 1943' [Outing of the amateur film club, 1943]." United States Holocaust Memorial Museum.
---
Date produced: 1955
Filmmaker(s):
Description:
"Film depicts a club picnic held at a Eaton Hall Farm. Film includes title cards. Footage includes families at picnic, playing games, canoeing, swimming and people filming with motion picture cameras" Archives of Ontario.
---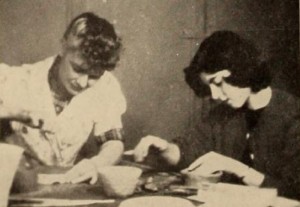 Date produced: 1949
Description:
"A joint project of the members of the Motion Picture Photography Class of the Westchester Workshop, in White Plains, N. Y., Recreation Handmade is notable for its evenness of camera work. It presents in a naturally episodic fashion various handiwork classes available to children and adults of the community. If you like to work with your hands, this film will make you eager to enroll in one of the many activities offered — which, of course, is the purpose of its production. A rather full commentary describes how the courses work. Walter Bergmann, as instructor of the motion picture course, proves with his pupils' film that practical movie making can be taught — and taught well." Movie Makers, Dec. 1949, 470-471.
---
Date produced: 1949
Filmmaker(s):
Description:
"Film about how to make films." Library and Archives Canada.
---
Date produced: 1956
Description:
"Film is a documentary on how to perform certain special effects in motion picture film. Film shows Toronto Movie Club members creating a double exposure, a humorous illusion, animation; shooting with a mirror and reversing motion" Archives of Ontario.
---
Total Pages: 5