---
---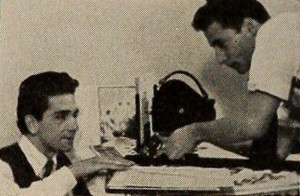 Date produced: 1938
Filmmaker(s):
Description:
"Produced for the Besbee Products Corporation, by Charles J. Carbonaro, Entitled to Success is something new in the amateur movie industry. It represents the use of movies to advertise a movie product; in this case it is the Besbee Universal Title Maker. In this film, Mr. Carbonaro maintains his usual high standard of photographic excellence, and he has introduced a number of ingenious technical tricks. The story is a delightfully and naturally handled tale of a new movie maker who acquires a titler and sets out to investigate its possibilities with the aid of his wife and a friend who is also an amateur filmer. The fresh, contagious enthusiasm of the real movie fan is effectively portrayed by the well directed cast, and anybody who has had the experience of buying a new cine accessory will not fail to chuckle sympathetically with the hero's intense delight as the story unfolds. The picture is beautifully planned and expertly edited and, best of all, it has the little touches that grow only from sincerity of purpose and understanding of the art of the cinema." Movie Makers, Dec. 1938, 617-618.
---
Date produced: 1936
Filmmaker(s):
---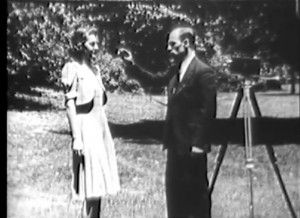 Date produced: 1940
Filmmaker(s):
Description:
"On methods and devices used to make correctly exposed pictures. Explains use of photo-electric cell exposure meters." National Archives.
---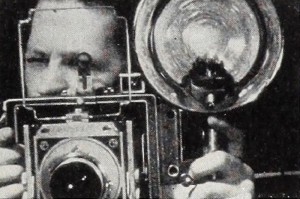 Date produced: 1950
Filmmaker(s):
Description:
"Ralph W. Luce has made a record film of a day's outing by a group of cameramen, in which he proves that imaginative planning and concise cutting can make an interesting movie of what might otherwise be dull material. The continuity scheme used in Field Trip shows a waterfront scene being shot, its process through the darkroom and its final exhibition to win top prize among the group's endeavors. Flanking this theme are creative compositions that various cameramen might have recorded, as well as inserts of the workers choosing their viewpoints and setting their lenses. The lead and end titles are particularly stimulating. Mr. Luce has achieved pace in a film that might have been plodding. The result is marred only by the graininess of its monochrome emulsion." Movie Makers, Dec. 1950, 467.
---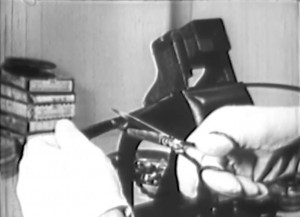 Date produced: 1939
Filmmaker(s):
Description:
"Film Editing, an exposition of this topic, is a single subject in the series, You Can Make Good Movies, produced by the Harmon Foundation of New York and photographed by Kenneth F. Space. This film presents the successful use of a medium to explain its own working and is divided into two parts — first, the mechanical operations involved in editing and splicing and, second, the methods used to present simple cinematic ideas through cutting. The clear and well ordered presentation of this subject is noteworthy. The first part of the film is characterized by a number of excellent, unusually large closeups showing the operations of scraping the film, applying cement, splicing, etc. In one or two of these closeups, however, the significant action was partially obscured, as in the case of closeups showing the application of cement to a splice, where the cork at the end of the brush got in the way. In general, however, the presentation was very clear and well photographed. Other methods than those shown could have been employed to produce the same results, but, in an instructional film of this nature, it is taken for granted that only one method can be presented without confusion." Movie Makers, Dec. 1939, 636.
---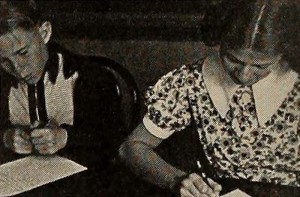 Date produced: 1938
Filmmaker(s):
Description:
"First Film and When the Cat's Away, a double header entry, which takes honors jointly because of the strong relationship between the two, is the production of the Cinema Club of Lowell Junior High School, at Long Beach. Calif., and of the club's faculty adviser, Helen Rees Clifford. First Film, largely the work of Miss Clifford, summarizes the Junior High School group's experiences in producing When the Cat's Away, which is entirely the achievement of the youngsters. Together, the two films present a clear and concise picture of the initial production of a film by a junior high school movie club, from scenario writing and movie planning to the completed opus, ready for its premiere. So, in these two reels, one sees how the job of teaching movie making technique to youngsters, of ages from eleven to fourteen, can be handled efficiently and happily, and one learns how clear and coherent a little picture can be produced as a starter. Few high school photoplay clubs have begun so well and with so little lost motion. Very few high school first films are as clear and competent as When the Cat's Away." Movie Makers, Dec. 1938, 618.
---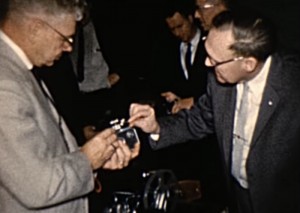 Date produced: 1961
Filmmaker(s):
Description:
The G.R.A.M.C. holds an open house on November 1, 1961. This film documents the event, showing amateur filmmakers dining, conversing with one another, and examining cameras.
---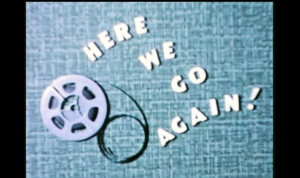 Date produced: 1965
Filmmaker(s):
Description:
"An amateur film made by and starring the husband and wife duo, John & Evelyn Kibar. The film documents the couples' struggles to make and complete a travelogue film of their travels to Colorado. Title cards with dialogue are dispersed throughout the film." Chicago Film Archives
---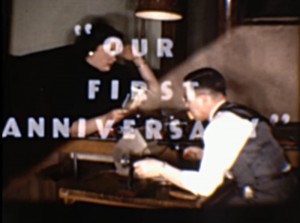 Date produced: 1951
Filmmaker(s):
Description:
A woman grows frustrated with her husband's commitment to his various hobbies, which seem to take precedence over their marriage.
---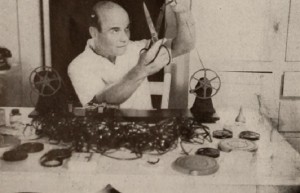 Date produced: 1941
Filmmaker(s):
Description:
" 'Oh, would some power the giftie gie us, to see ourselves as others see us.' In a sophisticated, fast moving satire, Fred Evans has struck at some of the blights of amateur movie making and screening. Turning his opening guns on tyros who ignore the instruction book which accompanies a new camera, Mr. Evans proceeds in a light, witty manner to poke cine fun at those movie makers who insist on learning the hard way. The picture continues on its farcical path, pausing now to watch invitations being telephoned for a screening of an as yet on-existent film and again to sympathize at the scene of frantic last minute editing. Home Movies has as its climax, of course, the fiasco of the screening, which should not be "tipped off" by a verbal preview. Compact and restrained, this movie offers meaningful as well as light entertainment." Movie Makers, Dec. 1946, 471.
---
Total Pages: 5