---
---
Date produced: 1959
Filmmaker(s):
Description:
"Excellent documentary of the care and treatment of (cerebral palsy) spastic children. The very thought of the subject may bring us sharply to the realization of our good fortune. The picture handles the subject with fine touches of human interest and may cause us to feel thankful that there are those who will devote their time and energies to this work. It must be tremendously rewarding to see the children learn to walk and do things under their own power and control. A truly enlightening picture" PSA Journal, Nov. 1959, 48.
---
Date produced: 1934
Filmmaker(s):
Description:
"Bringing Kodacolor indoors was the task E. M. Barnard, ACL, set for himself in Christmas 1933, and the result is a 400 foot reel of very charming Christmas studies. One of the few attempts at a complete personal story in color, this picture presents a well photographed and adequately planned film of the youngsters' enjoyment of the holiday. Exposure for interior Kodacolor seems to be no problem to Mr. Barnard, for the majority of his scenes have perfect color rendition as well as very effective and interesting lighting. Some of the studies of his small daughter have an appealing loveliness that is impossible to get in black and white, for they present the very delicate flesh tones with perfect faith as well as the colors of costumes and incidental Christmas background. This film marks a new step in personal indoor filming and leads the way to more extensive use of the color medium by artificial light." Movie Makers, Dec. 1934, 546.
---
Date produced: 1935
Filmmaker(s):
Description:
"Among the Ten Best, A Christmas at Home, by Edmund Zacher, II. ACL. is a lovely mine of bright gems which glows with all the warmth and color so surely associated with this festive season. Although essentially of slow pace, the film never once loses appeal, as it presents with loving and tender enthusiasm the countless minutiae of beauty which blend into the charm of Christmas at home. Mr. Zacher's color photography, predominantly interior, is crisp and delicately beautiful, while his sensitive selection of material and cunning choice of angles are an unfailing delight. Multiple exposures of such charm and flawless craftsmanship as almost to defy detection adorn his opening and closing sequences, and the entire production is pleasantly scored with appropriate music and sound effects. More than once a previous winner in these annual selections, Mr. Zacher seems not yet to have reached the full measure of his fine skill with camera and film." Movie Makers, Dec. 1935, 534.
---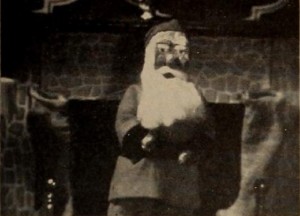 Date produced: 1949
Filmmaker(s):
Description:
"Taking the familiar 'Twas the Night Before Christmas as a theme, Bert Seckendorf and Vic Watson have put together an appealing children's holiday film combining live action with animation. The live action interludes show a father reading the poem to his young son on Christmas Eve, with the familiar lines superimposed at the base of the scene. These connectives then fade out to miniature sets in which animated figures re-enact the well known story of St. Nick. The film suffers from some underexposure and uneven animation in places, but it offers a very pleasant holiday item." Movie Makers, Dec. 1949, 455,468.
---
Date produced: 1966
Filmmaker(s):
Description:
"Chronos is a deft little documentary that calls our attention to the matter of the time, how we are regulated and governed by the passage of minutes and hours, and how occasionally time traps us in spite of our attempts to elude it. the film also won the MPD documentary Film Award" PSA Journal, Sept. 1966, 34.
---
Date produced: 1939
Filmmaker(s):
Description:
"Filmed in 1939 by the town doctor, Cologne is a personalized portrait of a farming community that merited only a single sentence in the WPA's 1938 guidebook to Minnesota: "COLOGNE (945 alt., 355 pop.) is a German community named for the ancient city on the Rhine." Dr. Raymond Dowidat and his wife, Esther, arrived in 1937 for his first practice after internship, and the impulse for the film seems to have arisen from their desire to document Cologne before they moved on to his next position in Minneapolis." filmpreservation.org
---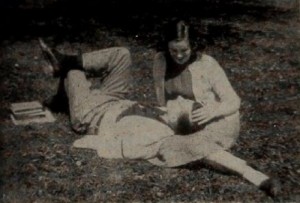 Date produced: 1953
Filmmaker(s):
Description:
"Concerto, by Warren Doremus, is a sensitive and touching story of young love, following a couple from the joy of their graduation and marriage to the anguish and pain of the man's recall to war service in Korea. The telling of this simple tale has been done with such warmth that the observer cannot help being caught up in the current of emotions which fill the film. The performances of Sallie Dunn and George Harrison as the young couple convey the right mood for each scene with complete sincerity and heart, while Mr. Doremus's direction is forceful and yet restrained. Accompanied by and an interpretation of the Warsaw Concerto of Richard Addinsell, Concerto, the film, may truly be styled a cine tone poem." Movie Makers, Dec. 1953, 332.
---
Date produced: 1955
Filmmaker(s):
Description:
"Esther Cooke presents an outstanding motion picture. This colorful pageant, filmed against a background of majestic Austrian Alps satisfies in every respect. A masterful eye for beautifully composed scenes is evident throughout the film. The pageant is covered from such a variety of angles, one marvels at Esther Cooke's ability to record the vent single handed. The accompanying musical background and very informative narration are obviously the result of careful research and planning. Leo J. Heffernan narrates the film - truly a masterpiece among travelogues." PSA Journal, Dec. 1955, 34.
---
Date produced: 1978
Filmmaker(s):
---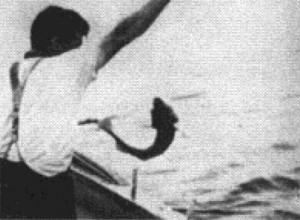 Date produced: 1960
Filmmaker(s):
Description:
"In the land of the Gaspe Peninsula the people live by the sea, fishing for cod, cleaning and preparing these for market; sheep, wool, spinning, cloth weaving; and wood carvings. The wood carving center of Canada has many excellent carvings; works of art, creations of all sizes. A bird sanctuary three miles from the peninsula is a breeding ground for gannets. An unusual but happy visit with people and their daily affairs" PSA Journal, Nov. 1960, 41.
---
Total Pages: 23