---
---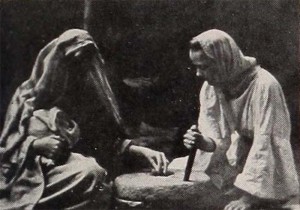 Date produced: 1939
Filmmaker(s):
Description:
"In the best tradition of filming technique, a movie should be an independent story telling medium. It should not require explanation or demonstration to make its meaning clear. Yet, there is no reason why this cardinal principle should not be violated, if the variation from accepted technique serves an artistic purpose. The Book of Ruth, by G. Manley DeBevoise, involves a new departure from tradition, for the film itself is an illustration in motion of the Biblical story, rather than a complete dramatization of the story. The tale is told by a narrator in synchronism with the appearance of the scenes on the screen, and, without the narration, the movie would be incomprehensible. Yet the two form a perfect unit which resents a fuller interpretation of the story of Ruth than would be possible by any other means. Costuming and selection of properties for this film are excellent and accurate. A church group worked for months in research to avoid anachronisms. The result is a splendid religious teaching film. The narration is given in person, and music is carefully scored by double turntable." Movie Makers, Dec. 1939, 636.
---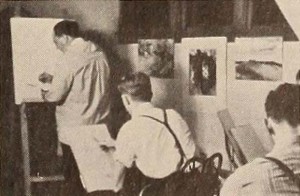 Date produced: 1938
Filmmaker(s):
Description:
"Builders of Tomorrow, produced by the Cinema Laboratory of Western Reserve University and filmed by Dr. James E. Bliss, takes one into the Cleveland School of Architecture at Western Reserve and shows the embryonic architects at work. The students are pictured studying the principles of design, drafting and in art classes. Architectural models are expertly filmed and with lighting and treatment that, in several cases, make them indistinguishable from actual structures and streets. The entire picture is interior color and the lighting is ably handled throughout." Movie Makers, Dec. 1938, 621.
---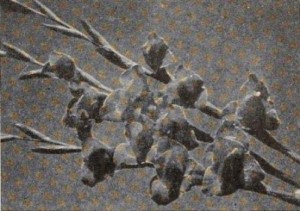 Date produced: 1952
Filmmaker(s):
Description:
"Bulbs and Beauty reveals in painstaking detail the planting, cultivating and harvesting of gladioli in the vast fields surrounding the town of Momence in the state of Illinois. In this elaborate undertaking, Haven Trecker unfolds in well planned and profusely close-upped sequences the many colorful aspects of this popular plant in the life of flower-loving America. The harvesting sequence is followed by somewhat generous footage of a flower festival, the big annual affair in glad-minded Momence; and the festival in turn is followed by a seemingly endless parade in tribute to these bounteous blossoms. Bulbs and Beauty, accompanied agreeably by magnetic sound on film, appears to have been made for informative and record purposes. It fulfills these functions in a lively and competent manner." Movie Makers, Dec. 1952, 337, 339.
---
Date produced: 1966
Filmmaker(s):
Description:
"The Bystander is a study of a young, apparently bashful fellow who studies other boys and girls having a good time and imagines just what they might do as they pair off and trundle out into the night. He, himself, cannot muster the courage to join them" PSA Journal, Sept. 1966, 35.
---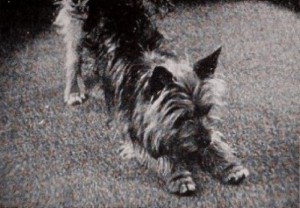 Date produced: 1948
Filmmaker(s):
Description:
"A young girl and an Australian terrier named Frisco are the ingredients of Calling Frisco, a sound on film story in which the speech is mostly from the dog's point of view. The film flows smoothly through typical scenes of a day's activities of eating and going to market and playing, ending in a dramatic climax in which Frisco protects his young mistress by warning off an intruder. Imaginative viewpoints and pleasant interior lighting are employed throughout. The dog's simple tricks are well pictured without being obtrusive, while the scene in which a bouncing ball lands in a goldfish tank, with its accompanying sound track, has the creative fantasy of Disney. Cyril Stevens has made a jolly film. " Movie Makers, Dec. 1948, 493.
---
Date produced: 1953
Filmmaker(s):
Description:
"Item is a film of Dr. Willinsky's trip to the Canary Islands with his wife, Sadie. In the form of a travelogue, music and Dr. Willinsky's commentary accompanies footage of the landscape, architecture, and local population. Included are shots of the local population carrying out their daily activities, children dressed in costume for Ash Wednesday festivities, markets, and traditional dances. Sadie is occassionally spotted sight-seeing and visiting with locals." Ontario Jewish Archives.
---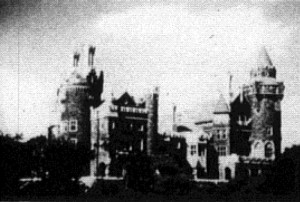 Date produced: 1961
Filmmaker(s):
Description:
"Casa Loma (house on a hill) was built by Sir Henry Pellat in Toronto. The design includes many of the things he admired in the castles of Europe. Much of the interior was imported. In this magnificence, Sir Henry lived until he could no longer afford the mounting city taxes. Out filmer takes us through this old castle that we may relive some of its greatness. The picture was made for the Kiwanis Club which was so active in reclaiming Casa Loma for Toronto" PSA Journal, Oct. 1961, 47-48.
---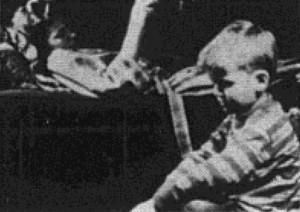 Date produced: 1960
Filmmaker(s):
Description:
"Mother is tired and catnaps while junior is at play. Soon junior takes his teddy bear and goes exploring the park, highway, and railroad. There are automobiles and trains to spark anxious moments. When Mother awakens, the young man has returned from his venture. A dream, perhaps" PSA Journal, Nov. 1960, 41.
---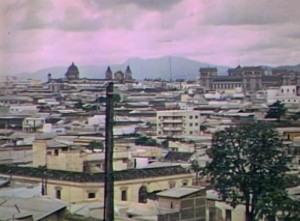 Date produced: 1960
Filmmaker(s):
Description:
Kodachrome travelogue showing life and culture in Guatemala and Panama.
---
Date produced: 1935
Filmmaker(s):
Description:
"Children Grow Up, photographed by Charles J. Carbonaro, ACL, and produced by The Religious Motion Picture Foundation, is one of the best examples of effectively handling amateur actors in a story telling film yet made. This three reel film was avowedly produced to point a moral in parent and child relationships and, as such, may be classed as social propaganda, a function in which it succeeds admirably. Yet the story it tells seems genuine and is of general audience interest. The film is carefully cut so that the action is logical and smoothly paced. Mr. Carbonaro is particularly to be congratulated for his handling of the difficult technique of parallel action, which occurs as the development of the children of two separate families takes place. Both streams of interest merge into one in a well planned, dramatic climax. The story is told entirely with the aid of amateur actors. Interior shots are in the majority and, for these, no special sets were built, the furnishings of the ordinary home being used. The lighting and exposure under these conditions are excellent throughout." Movie Makers, Dec. 1935, 534.
---
Total Pages: 23