---
---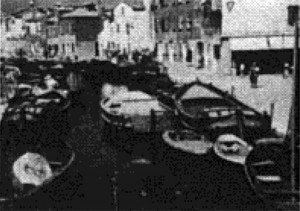 Date produced: 1960
Filmmaker(s):
Description:
"Burano by the sea, fisherman mending their nets, life along and on the canal. A visit with times of old, fine embroidery, the cobbler, children quietly at play, the market, the village square and its grand architecture and bronze statuary. It is feeding time in the square for a zillion pigeons. Another gem of Esther's visits to Europe" PSA Journal, Nov. 1960, 41.
---
Date produced: 1955
Filmmaker(s):
Description:
"The combined efforts of Massimo Sani-photography and Ezio Pecora-directing. A slowly paced, sensitive portrayal of adolescent emotions. While in many amateur films the acting is such that we can never forget it is a movie and that the actors are aware of the camera, in "Encounter on the River", the acting is natural, making this tender, almost too subtle story most enjoyable. The best directed amateur film seen in years." PSA Journal, Dec. 1955, 36.
---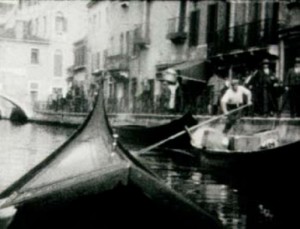 Date produced: 1928
Filmmaker(s):
Description:
"Travelogue with intertitles of Alexander Black's trip to Europe in 1928. It includes footage of air and sea travel, a phantom ride in a gondola, and footage of Black himself feeding pigeons in Venice, Italy." UC Berkeley Library.
---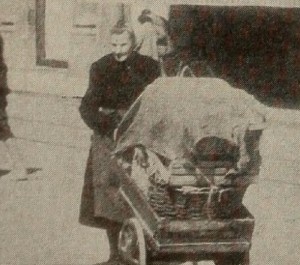 Date produced: 1953
Filmmaker(s):
Description:
"Oscar H. Horovitz, in Firenze, Queen of the Arts, has once again produced an excellent record of a city, turning this time to Firenze (Florence), the Tuscan capital of the Italian Renaissance. Firenze is a monochromatic city of varying tones of brown, but a most attractive one as Mr. Horovitz has shown, existing today just as it did during the 16th Century. Belying the film's title, however, the many art treasures for which this city is justly famed are ignored, the filmer desiring apparently to show Firenze through an architectural eye. The film is, nevertheless, interesting, with lively pace and plenty of human interest. Here is a rewarding excursion to one of the fabulous cities of our time." Movie Makers, Dec. 1953, 334.
---
Date produced: 1955
Description:
"This striking example of enthusiastic club production efforts, revolves around four amusing stories which stem from the simple theme of for chairs—each responsible for the contribution of one story and its filming. Because of the outstanding qualities of "Four Chairs", it was awarded a special cup for excellent club production" PSA Journal, Dec. 1955, 35.
---
Date produced: 1935
Filmmaker(s):
Description:
"Item is a film taken by Dr. Willinsky of a trip to Rome, Italy. In the form of a travelogue, footage of landmarks, ruins and the local population are interspersed with captions that were added in by Dr. Willinsky to provide information about the country's history and culture. Included are shots of the Pantheon, the Colosseum, a Roman market, the Appian Way and dinner at a Roman restaurant. Dr. Willinsky's wife, Sadie, is occassionally spotted in the footage with travel companions who are probably relatives or family friends." Ontario Jewish Archives.
---
Date produced: 1964
Filmmaker(s):
Description:
"Italian Diary takes us to Italy where we see many of the old familiar places but lots of little seen nooks and crannies as well. A young girl narrator gives life and effervescence to the film which otherwise could well be just another travelog. Harshbarger has tied the sequences together with a travel album, showing us color photos on the pages of the album which then come alive on the screen. The film also received the MPD Travel Film Award, judged as being the best travelog of well over a dozen that dotted this year's contest, six of which were among the top ten and the honorable mentions" PSA Journal, Sept. 1964, 50.
---
Date produced: 1962
Filmmaker(s):
Description:
"The film opens in Florence, Italy, with the statue of David by Michelangelo, in marble. Then we quickly move to the quarry to observe the processes of opening a crack, part of the process of shearing off a piece from the huge mountain of marble. Later we see the cutting and slicing into useful slabs and polishing. Also, we visit a studio where, among other works, a large block of marble is being carved into a statue of Abraham Lincoln for the city of Boston. The commentary on tape is well done. This will be included in the Package" PSA Journal, Oct. 1962, 33.
---
Date produced: 1931
Filmmaker(s):
Description:
"Stephen F. Voorhees's 400 ft. travel film of Italian architectural scenes deserves placement in this list because it combines three factors but rarely brought together in pictures of this type. First, the photography is extraordinarily good, not only with reference to the routine requirements of exposure and focus but because it is artistic throughout and the composition never descends to the casual or the "snap shot" level. Second, Mr. Voorhees's film has a natural and easy continuity, jogging amiably through Venice and its environs, much as a traveler might do himself, pausing for a bit of incidental human interest and catching a scene that the filmer felt was unusual but presenting it without any preliminary flourishes, as one friend who might have said to another in the course of a stroll, "Don't miss that, by the way," pointing to something seen on the way. Last of the three things, so unusual to find combined, is a professional study, made by the filmer, himself a great architect, preserving those details which he wished to bring from northern Italy for later possible use. The great Colleoni statue is studied from many angles. Details of tiles and other wall ornamentations are offered and buildings are presented from one viewpoint after another. Yet all of this is done unpedantically and the nonprofessional audience is not aware that this subtle architectural record is more than a delightful travel film." Movie Makers, Dec. 1931, 658.
---
Date produced: 1933
Filmmaker(s):
---
Total Pages: 3