---
---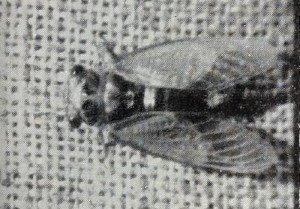 Date produced: 1951
Filmmaker(s):
Description:
"There is a lively and rewarding sense of participation about Nature Campers which, despite its threatening length, should give this picture wide appeal. In it, an eager-eyed group of young people and a few engagingly raffish naturalists pursue their studies of the outdoors with enthusiasm — and sound cinematics. Birds, butterflies, frogs and fish are among the creatures which come before Herbert Shumway's camera. But they come there, not just in the stiff ultracloseups of the studio, but as a natural part of the picture's development. The background musical selections are an enjoyable addition to an entertaining picture." Movie Makers, Dec. 1951, 412.
---
Date produced: 1953
Filmmaker(s):
Description:
"In this year's goodly collection of films based largely on extension tube cinematography, Nature in the Garden by W. G. Nicholls tops not only the excellent pictures of many other contestants, but also his own Ladybird, a ten best award winner in 1953. Nature in the Garden is an instructional film pure and simple, chock full of facts to please the most apathetic, as well as the most enthusiastic, bug-viewer. Excellent technical work by a master student of both nature and cinematography has resulted in outstanding and often exciting closeups of bees, spiders, moths and other insects. Skillful editing and an unobtrusive yet informative narrative make Mr. Nicholls' production an exceptional short subject. To this teacher, Nature in the Garden is definitely superior to most of the professional nature films now being circulated in American educational circles" PSA Journal, Jan. 1955, 49.
---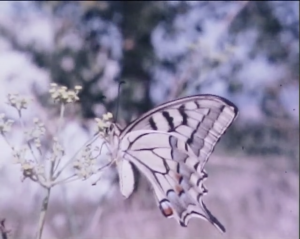 Date produced: 1980
Filmmaker(s):
Description:
Documental sobre el ciclo de vida de la mariposa Papilo Machaón, desde su fase inicial como larva hasta su forma final como mariposa. "En el atardecer, descansan las mariposas esperando al nuevo día para continuar su misión, libando y fecundando flores, manteniendo así el equilibrio ecológico del fascinante mundo de la naturaleza". (Papilio 1980)

Documentary about the life cycle of the Papilo Machaón, from its initial stage as a larva until its final form as a butterfly. "At sunset, the butterflies rest awaiting the new day to continue their mission, absorbing polen and pollinating flowers, maintaining the fascinating ecological equilibrium of the natural world. (Papilio 1980)
---
Date produced: 1965
Filmmaker(s):
Description:
"In Pattern of Living we are told how life on this earth probably began. Most likely it started after the upheaval of the sun 5,000 million years ago. Algae and animacules were perhaps the first forms of life, to be followed by the vegetable, and later the worm which was the forerunner of insects as we know them today. Clorophyll, the narrator explains, is responsible for combining water with sunlight to produce sugar that gives energy. Much of the film was shot through a microscope and some animation is used" PSA Journal, Sept. 1965, 51.
---
Date produced: 1931
Filmmaker(s):
Description:
"Film opens with views of commercial apiaries, working along into close up of hive. Hive is opened, queen shown, also drones and workers. Handling and shipment of queens and workers. Macrophotos of workers gathering honey. Production of wax and comb, also honey. Water carriers and guards. Production of queen and brood. Novelty hat and beard fashions from bees. Operator takes mouth full of bees. Closes showing 2 young boys beekeeping and gathering their crop." Educational Film Guide, 1937 Edition, 54.
---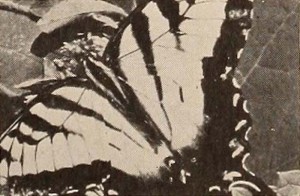 Date produced: 1938
Filmmaker(s):
Description:
"Technically superb macroscopic work marks the great part of the footage of Swamp Song, a color story of the insects found in the marshes and woods of the countryside, filmed by R. H. Unseld. Perfect focus and precise exposure distinguish the studies of insects, and it is not unlikely that they are the best of their type that have yet been filmed with an amateur camera. It is unfortunate that the story motif of this picture — a father and son wandering through the woods in search of insect types — is not better integrated with the extraordinary macroscopic footage. Nor is the technique of the titling on a par with the rest of the film. But the macroscopic insect scenes are truly astonishing, and such highlights as the invasion of a termite colony by a roving band of ants and a series of ultra closeups of butterflies are without parallel." Movie Makers, Dec. 1938, 621.
---
Date produced: 1955
Filmmaker(s):
Description:
"A study of the Wanderer Butterfly presented in an interesting manner. Making full use of extension tubes and telelenses, the excellent extreme close-up photography affords the audience a detailed glimpse of the life cycle of this beautiful insect." PSA Journal, Dec. 1955, 36.
---
Date produced: 1966
Filmmaker(s):
Description:
"War of the Ants is a deft piece of animation against elaborate stage settings and masterful props. No scale tells us how big the ants are, but their movements and actions are superb. The story has a similarity to human warfare in its satirical approach" PSA Journal, Aug. 1967, 36.
---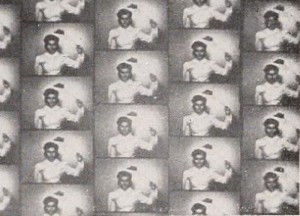 Date produced: 1942
Filmmaker(s):
Description:
"It is a strange and savage world indeed which Dr. Richard Cassell explores in his Warriors of Another World, a striking recording of nature's continuing and inexorable conflict. His warriors, among others, are the ant lion (with its simple but treacherous sand trap), the scorpion, the mantis, the black widow and the field spider. Into the life of each of these — and their unwary and often unarmed victims — Dr. Cassell has probed with his long focus lenses, to bring back reports of murder, sudden death and cannibalism among the insects. His technical handling of the specialized tools of his trade is beyond reproach, while his continuity treatments range the full gamut of motion picture story telling. Both micro and macrocinematography are used in the film's course, to develop well rounded sequences that are, incredibly, complete with medium shots, near shots, closeups and even reaction scenes made during the tiny but titanic battles. We see (in full frame closeup) the multiple lensed eye of a housefly, only to learn from immediate and striking imagery what such an eye might record — a housewife approaching with a fly swatter. Warriors of Another World is a distinguished contribution to educational film making." Movie Makers, Dec. 1943, 474.
---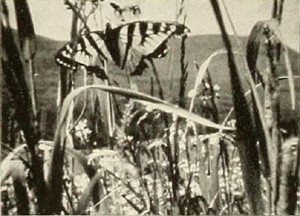 Date produced: 1940
Filmmaker(s):
Description:
"Robert P. Kehoe, who won Honorable Mention last year with Chromatic Rhapsody, has "done it again" — only more so. In Wildflowers, with his own inimitable magic, he has gathered into light and color all the lazy loveliness of high summer. Here, as if he talked their secret language, bees drone and butterflies dance before his lens. Daisies and buttercups, the wild geranium and "butter and eggs" — a dozen flowers you do know and a score you have forgotten — nod in the warm sun with simple and unassuming beauty. Often, six blades of grass and a single bloom will comprise a moment of ineffable gaiety and song. The rough wood of a slanting black post gives accent to a field of daisies, or the delicate tracery of a "four o'clock" is a breath taking frame for a summer sunset. In Wildflowers, Mr. Kehoe has written once again a lyric testament to nature's incomparable loveliness." Movie Makers, Dec. 1940, 600.
---
Total Pages: 4