---
---
Date produced: 1953
Filmmaker(s):
Description:
"A short amateur film using time-lapse photography of flowers blooming in a studio setting." Library and Archives Canada.
---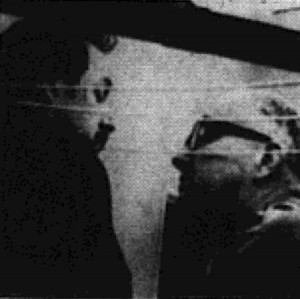 Date produced: 1963
Filmmaker(s):
Description:
"Isabelle's next door neighbors - three bachelors - are asked to carry on for her, when she is stricken and hospitalized, in entering her prize orchid in the Garden Show. Their well-meaning but bumbling attempt to help her win the prize results in hilarious antics and a heart-warming conclusion to this delightful comedy" PSA Journal, Oct. 1963, 41.
---
Date produced: 1932
Filmmaker(s):
Description:
"Garden Closeups, by W. T. McCarthy, ACL, demonstrates its right to be placed among the ten best films because of the painstaking care and time expended in its preparation and because of the exceptional results achieved. The film covers a subject which is almost entirely in miniature, but which, in its motion picture interpretation, reveals a whole new world which only the eye of a discriminating filmer and a nature lover could catch. Here are excellent closeups of the common varieties of garden flower, pictured so skillfully that the technique used is forgotten and the actual, living flower seems revealed on the screen, sometimes swaying gently in the breeze, sometimes rifled by a gigantic bumblebee pictured in alarming closeup. Another sequence will show the honeycombed intricacies of a wasp's nest, a time condensation technique showing its gradual cessation of activity as the winter comes on. An outstanding achievement in closeup technique showed the praying mantis in the very unprayerful act of devouring its victim. The film was made almost entirely with the aid of a telephoto lens with special extension, which enabled the patient cameraman to capture his flower and insect subjects from a moderate distance. Focus and exposure alike show the result of painstaking care in Garden Closeups." Movie Makers, Dec. 1932, 560.
---
Date produced: 1936
Filmmaker(s):
Description:
"Harrison and Harrison's offer of the firm's color meter in leather case, with six 1 1/4 -inch meter-matched filters in leather filter fold, was awarded Eugene L. Ritzmann of Berkeley, Cal., for his 'Garden Life.' The entrant has been making amateur movies for nine years, and his skilled work in putting on the screen in color by means of controlled timing the blooming of flowers demonstrated that his period of apprenticeship has long since expired. If a word of suggestion and distinctly not of criticism might be offered it would be the film would have greater value for the uninformed if titles should be inserted identifying the various flowers. The subject caused some tough eggs of the male persuasion to sit up and take notice. What it will do to the world of womankind it is not hard to imagine." American Cinematographer, Jan. 1938, 28.
---
Date produced: 1932
Filmmaker(s):
Description:
"Among the films awarded honorable mention is The Grand Teton Country, carrying with it a breadth and sweep of all outdoors, a Kodacolor film by H. W. Voss, ACL. This picture is, first of all, an eloquent and colorful reply to those who do not believe that long shots can be taken successfully by this process. Time and again, in viewing this film, one is astonished by the clarity and detail of distant mountains, rearing their majestic, snow capped heads up into the cold blue of the sky, while the foreground is shown in all of its true colors. Mr. Voss has proved to skeptical Easterners that Rainbow Falls really lives up to its name. His Kodacolor camera, skillfully handled so as to produce a dark background for the rainbow formed by the sun shining on the spray, reveals perfectly that faint, tenuous beauty which is all the more remembered because evanescent. But solid, palpable colors are pictured here, too. Mountains and canyons, lakes that are mirrors, desert flowers and all the glowing colors that are part of the West, are arranged on Mr. Voss's film palette. Especially well considered was his continued use of the various neutral density filters in order to give distant shots their correct value in the brilliant sun and the inclusion of interesting action in each scene." Movie Makers, Dec. 1932, 560-561.
---
Date produced: 1947
Filmmaker(s):
Description:
"Item is a film of a trip to Hawaii taken by Dr. Willinsky and his wife, Sadie. In the form of a travelogue, footage of Hawaii's landscape, vegetation, landmarks and local population is interspersed with captions that were added in by Dr. Willinsky to provide information about the country's culture. Footage includes shots of sites around Honolulu and Waikiki, surfers, Hawaiian flowers, churches and temples, sugar cane farming and singers performing outside a hotel. Sadie is occassionally spotted exploring the sites and interacting with locals."
---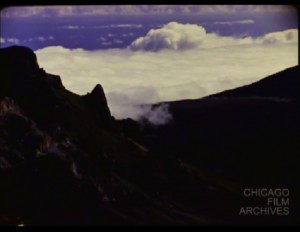 Date produced: 1941
Filmmaker(s):
Description:
"2 part travelogue film of Hawaii capturing the scenery, resources and people of the islands. Part 1 visits to a lava flow and other natural wonders such as Haleakala Creater and a black sand beach as well as numerous shores and valleys along the way. Stop motion animation of a toy car or ship tracks a change in location. Part 2 features footage of tropical flowers, picking coconuts, family picnic, farming and factory processing pineapple, Hula dance performances, surfing and canoeing competitions, and sunsets."
---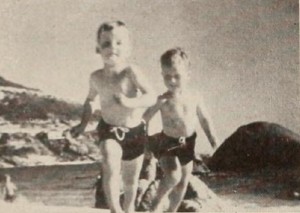 Date produced: 1947
Filmmaker(s):
Description:
"From Capetown, South Africa, comes Help Yourselves, Boys!, by Lewis Lewis, a charming record of two handsome youngsters and their father engaged in planting, growing and harvesting zinnias. Using many effective angles and double exposed titles, Mr. Lewis relates a plausible tale of his boys raiding the grape arbor, being caught, and finally having their exuberance turned toward flower growing. Since the newly hatched garden is situated close to the ocean, the scenic backgrounds are startling as well as pleasant. Rich, black earth and flaming orange zinnias provide an attractive setting for an engaging family movie." Movie Makers, Dec. 1947, 538.
---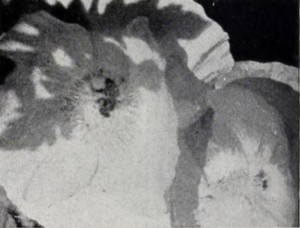 Date produced: 1945
Filmmaker(s):
Description:
"As an openly avowed disciple of Herman Bartel, one of the old masters of nature filming, Martin E. Drayson has been an ably and imaginative pupil. Seldom have individual scenes of such delicate beauty as his poured across the screen of personal movies. Interlude in Sunlight, like Mr. Bartel's work in Awakening or Pathetique, is essentially an effort to interpret, in cinematic imagery, compositions of music. As such, it is divided into three sections or movements, comprised pictorially of bees, flowing water and flowers. The musical scores which these interpret are Paganini's Moto Perpetuo, Massenet's Meditation from Thais, and Johann Strauss's Wiener Blut waltzes. Preceding these pieces (during the lead title assembly) and between the several sections, Mr. Drayson has elected the use of complete silence." Movie Makers, Dec. 1945, 496.
---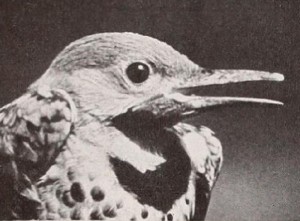 Date produced: 1943
Filmmaker(s):
Description:
"Henry E. Hird offers the framework of a timely continuity plan for a scientific record in A Letter. A naturalist father writes a film letter to his sailor son who shares the father's scientific interest in bird and insect life, as well as in floral beauty. We see the father writing and the son reading a letter, the information in which is brought to life in film. Mr. Hird is a very capable observer and movie maker, and the combination of these abilities has enabled him to offer, in this informal style, a wealth of information. Extraordinary sequences of nesting birds are included." Movie Makers, Dec. 1943, 477.
---
Total Pages: 3