---
---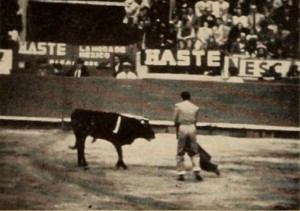 Date produced: 1949
Filmmaker(s):
Description:
"It takes Cal Duncan 1300 feet of 16mm. color film to tell a pair of politely uninterested guests how he caught a sailfish off Acapulco — but the effort, as exemplified in Mexican Malarkey, is decidedly worth it. Mr. Duncan's running gag, climaxed by a truly comic finish right out of the funny papers, is the flashback technique developed to a high and satisfying order. His Mexican footage itself is no less effective. The robust and hearty producer has an artist's eye for fresh viewpoints, a dramatist's instinct for revealing action. His sequence on Mexico's traditional Sunday bullfight, always a difficult assignment, is outstanding. Mexican Malarkey is a refreshing variation on an increasing wellworn theme." Movie Makers, Dec. 1949, 454.
---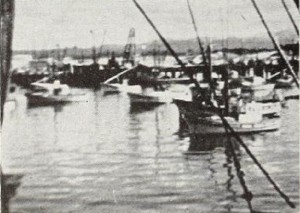 Date produced: 1942
Filmmaker(s):
Description:
"Kenneth L. Lockwood is a newcomer to the tourney of Ten Best competition, but with Monterey Peninsula he seems to serve notice that his is a name with which to reckon. There is, throughout his immaculate 8mm. Kodachrome, a feeling of craftsmanship and care. Add to these fundamentals an unerring sense of composition and a nice eye for the importance of human interest — and you have an award winner in the making. Mr. Lockwood brings to the screen not only the windblown cedars and sun drenched missions, familiar symbols of the Monterey foreshore, but the life of its waterfront as well, redolent of fish, tarred nets and crabs steaming in a deep bellied kettle. One looks forward with interest to further work from this talented initiate." Movie Makers, Dec. 1942, 508.
---
Date produced: 1922
Filmmaker(s):
Description:
"The filming of "Nanook" was almost an accident. It was not until his third exploration trip into the North in 1913 that Mr. Flaherty packed in his kit the necessary apparatus for making a motion picture of the life of the Eskimo. For a year and a half he lived among them as an engineer and explorer and his admiration for their life, their games, and their struggles, grew on him slowly. He was immersed in enthusiasm. He knew they made fine film stuff. Then, after months of hard work, his precious film was drowned while crossing a rotten ice stream within twelve miles of the journey's end. Undaunted, he made new plans immediately for retaking the picture. His next trip to the North, made especially to take the film, was completely successful. He did away with episodic filming; he built his first camera entity," Amateur Movie Makers, May 1927, 7.
---
Date produced: 1948
Filmmaker(s):
Description:
"Oolichan fishing; the preparation and rendering of oil from oolichans by the Kwakiutl [First Nation]." (Camera West)

The oolichan or eulachon, sometimes known as the "candlefish," provides an oil or grease which is a historic dietary staple of the First Peoples of the Pacific Northwest.
---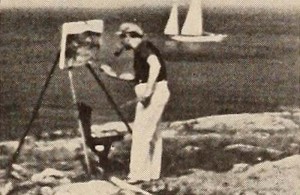 Date produced: 1938
Filmmaker(s):
Description:
"New England Holiday is the kind of travel film any movie maker should be proud to produce. Replete with human interest and a warm feeling of good fun, this two reel record is distinguished by a wealth of splendid compositions and natural camera treatment. Albert F. Watts has lavished on such typically New England subjects as Gloucester harbor, the fishing fleet or a clam bake the sensitive feeling of an artist for line and mass and the alert understanding of cinematics of a genuine movie maker. Smoothly integrated sequences have been edited with unerring suavity and liveliness, comprising a whole which is both vital and lovely to look at. The production is fundamentally weakened only by a selection of title wordings considerably less spirited and effective than the films which they accompany." Movie Makers, Dec. 1938, 620.
---
Date produced: 1960
Filmmaker(s):
Description:
"Edited film by Floyd Henry Wells, a retired salesman and a member of the Wally Byam Caravan Club of Airstream trailers, chronicling travel through New Zealand including scenic views, urban scenes, beaches, Puhoi Hotel, Lyltelton and Diamond Harbors, marina, fishing, Wairakei Geyser Valley, geysers, Tehokowhitu-atu archway, Maori Reserve and indigenous peoples, and motor camping (Rainbow Springs Motor Camp)," Human Studies Film Archives, Smithsonian Museum.
---
Date produced: 1941
Filmmaker(s):
Description:
"Harriet Gerry shot this film during an automobile journey from Rosedale to Williams Lake and Soda Creek on the Cariboo Highway, and part of the return trip via the Dog Creek Road, in the summer of 1941" British Columbia Archives.
---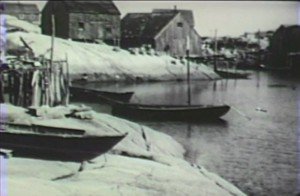 Date produced: 1935
Filmmaker(s):
Description:
"In Ultima Thule and Peggy's Cove, produced by Edward A. Bollinger, ACL, and Mrs. Bollinger, one finds what must be the ultimate in beautiful scenic photography, magically infused throughout with a sensitive feeling for the relationship of ordinary people to their natural backgrounds. Beyond the veritable perfection of many of the scenes in these pictures it seems impossible for camera and film to go, even when guided by skill and imagination as superb as Mr. and Mrs. Bollinger's. Compositions, cutting and sequence structure are incisive and stirring, while the title wordings and execution leave little to be desired in suave good taste. The two subjects are first and last reels of a four reel study of Nova Scotia, in which, it is understood, Mr. Bollinger has done the camera work and his wife the editing and titling. It is a happy combination, from which have resulted documentary reels of magnificent skill and breathtaking beauty." Movie Makers, Dec. 1935, 550.
---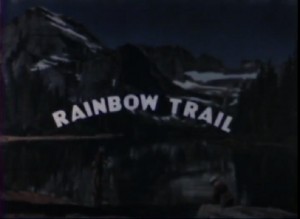 Date produced: 1948
Filmmaker(s):
Description:
"It takes a good deal of ability to treat fishing cinematically. It takes still more ability to approach the subject with humor and yet avoid the ludicrous. O. L. Tapp has bypassed both pitfalls in his Rainbow Trail, a beautifully paced, short film that catches the fun of all fishing trips but still makes its point that the angler's life is not all sweetness and light. Mr. Tapp precedes the body of his film with several short shots and titles, all of which indicate a candid view of a fisherman's veracity. The succeeding footage illustrates his thesis, as he (thin, awkward) and a companion (stout, capable) undergo the rigors of stream fishing. That a reviewer can sum up the characteristics of the two men in two adjectives is an indication of the excellent casting and direction which distinguish Rainbow Trail." Movie Makers, Dec. 1948, 491.
---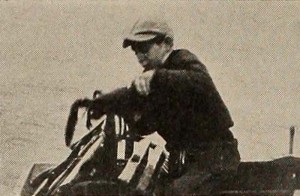 Date produced: 1938
Filmmaker(s):
Description:
"The story, older than the craft of lobster fishing, of a ten year old boy earning his own first few pennies is told beautifully and sensitively in Riches from the Sea, by T. J. Courtney. As simple and human as the life of those it pictures, this film captures the spirit of the young fisher boy as he goes about his work of baiting and dropping lobster pots. They are his own, just given by his father. The money he makes from selling the lobsters he catches, some of which he boils on the beach, is also his own. Finally, when the last one is purchased by tourists along the dusty road and the boy races to the village, clutching his coins, to buy the coveted store window toy, the picture swells to its climax, fully equal to the importance of the occasion in the youngster's life. Lovely angles and expert composition bring beauty in black and white to the photography, and the acting, by Philip Boutilier and his little sister Lorraine, of Seabright, Nova Scotia, is unaffected and agreeable. This photoplay illustrates how completely the locale and life of an interesting community can be conveyed by threading it on a simple story of human nature." Movie Makers, Dec. 1938, 597.
---
Total Pages: 5