---
---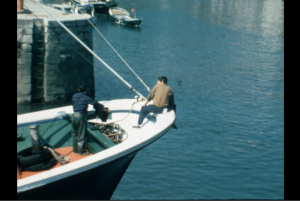 Date produced: 1978
Filmmaker(s):
Description:
Itsasoko bizimodua.

El filme retrata la forma de vida en la mar en Lekeitio

The film portrays the life on the sea in Lekeitio.
---
Date produced: 1930
Description:
"Film is made up of a variety of short segments. Included is clip of a man fishing in an old mill stream, a New Year's Eve party, people toboganning and skiing, a time lapse of a cigarette burning, the Toronto skyline, and Niagara Falls" Archives of Ontario.
---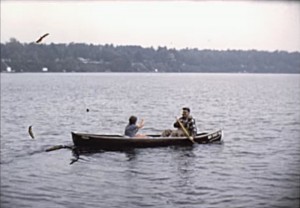 Date produced: 1971
Filmmaker(s):
Description:
A married couple and a friend go on a fishing trip. The film shows them playfully preparing for the journey, driving to the lake, and partaking in fishing and canoeing.
---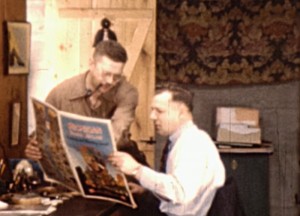 Date produced: 1946
Description:
A man schedules a fishing trip several weeks in advance of the date. Before the day comes, he must overcome several mishaps and hindrances that threaten the trip.
---
Date produced: 1929
Filmmaker(s):
Description:
"[...] Interesting 16 millimeter study of fishing, ranging from deep sea thrills off the Florida coast to an expedition into the Canadian wilds." Photoplay, Nov. 1929, 67.
---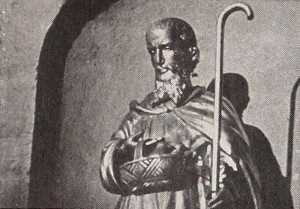 Date produced: 1939
Filmmaker(s):
Description:
"In L'Ile d'Orléans, Radford and Judith Crawley cross a bridge and come back. But they cross a bridge with a difference, because what they see and what they make us see on the other side of that bridge is the inner essence of a withdrawn people, who proudly conserve the memory of things past in the realities of things here. The Maxim Award winner opens a door into a region of Eastern Canada — the Island of Orleans — where old French and old Canadian folkways are lived placidly and with dignity. Actually, the camera crosses a very modern bridge at the film's beginning and returns over it at its end. But, once in L'Ile d'Orléans, in the hands of the two Crawleys, this Twentieth Century box of wheels and gears spins a tale of yesterday, even if it pictures just what its lens sees today. The landscape and the old houses, some of them there for more than two hundred years, set the decor, after which we come to the dwellers in this separate Arcady. They do, with a delightful unconsciousness of being observed, the things that make up their daily lives, and, when invited to take notice of the visitors, they do this with a fine courtesy that is the very refinement of hospitality. Mr. and Mrs. Crawley devote a liberal part of their footage to a careful study of home cheese making, in which camera positions and a large number of close shots turn what might have been a dull and factual record into something of cinematographic distinction. The highlight of the Crawleys' film is a leisurely and sympathetic watching of what is the highlight of life in l'Ile d'Orléans — the country Sunday. We see different churches, all of a general type, but each with its essential neighborhood individuality. Finally, one of these is singled out for an extensive camera visit. Bells ring and the country priest is shown with his gravity and solemn courtesy. The countryside comes to life with its church bound inhabitants who wind over the simple roads slowly yet purposefully and with the assurance of those who know that the land is theirs as it was their fathers'. With such pictures of everyday life, scored with appropriate music for double turntable showing, Mr. and Mrs. Crawley have etched an epoch, in a record which can stand on its own feet with good genre description in any art form. With not a single concession to sentimentality — as should be the case in honest work — but with a sure feeling for that which reaches out for the finer emotions, they have shown us what they found across the bridge. Here is personal filming at its best." Movie Makers, Dec. 1939, 608-609.
---
Date produced: 1960
Filmmaker(s):
Description:
Edited film "chronicling travel through the Caribbean including scenic landscapes, cities and villages, dance, local markets and fishing. Wells travelled on the M/s Stella Maris II. Locations filmed include Puerto Rico, Saba St. Kits, Gaudelupe, St. Lucia, Barbados, Paramaribo, Tobago, Trinidad, Grenada, St. Vincent, Dominica, Martinique, Fortress of San Felikpe Del Morrow (San Juan), For Christianvaern, Fort Fleur depee XVIII siecle, and Sam Lord's Castle," Human Studies Film Archives, Smithsonian Museum.
---
Date produced: 1969
Filmmaker(s):
Description:
A Little Bit of Yukon takes you on a trip north to Alaska. You get 18 minutes of some very beautiful scenery (in color, of course) and the location of some very well-stocked fishing holes. Tom Mitoma is our tour guide, with a very good job of camera work. It's an interesting film for outdoorsmen and a very easy way to take a trip to Alaska for those of us who are not," PSA Journal, Mar. 1970, 44.
---
Date produced: 1935
Filmmaker(s):
Description:
"Edited film used by an amateur travel-lecturer documents travel in western and southwestern United States beginning at a rodeo in Phillipsburg, Kansas (trick riding, lassoing jack rabbits, roping calfs, wrestling steers, horse races, bucking broncos and bucking steers as well as scenes of an airplane flyover and of an airplane crashing which possibly was a stunt) and continuing to Black Hills, South Dakota (forest scenery and ca. 1927 construction of Mount Rushmore--blasting off cliff face, scaffolding, men working and completed monument). Shown are roadside scenery, railroad tracks, men cleaning railroad tracks with hose and tank on small train car on the way to an unidentified mountain fishing camp possibly in Colorado (canoeing, fishing in stream, and a smokehouse) and a mountain farm where colts are branded. Cog railway is taken up to Pike's Peak. Travels continue to to the Southwest (unidentified southwestern town possibly Santa Fe with adobe buildings and men and children in Mexican dress singing and playing guitar, American Indian dance performance indoors possibly Zuni, parade of American Indians in unidentified city perhaps Gallup and Navajo band. Scenes of the southwest continue with Navajo in Canyon de Chelly (hogans and herding sheep), prehistoric archaeological sites (Mesa Verde, Chaco Canyon another unidentified cliff dwelling possibly Montezuma's castle) and Taos Pueblo. Film records American Indian dances at a gathering of Indian tribes possibly at Gallup, intertribal horse races and women's tug-of-war. Hopi are shown dancing at Hopi. Also shown are Indian women (possibly Apache or Navajo) and children together and children in cradleboard and the Navajo reservation (hogans, women spinning and weaving under a ramada, herds of sheep and goats and "dipping sheep"). Natural wonders of Grand Canyon, Monument Valley and Rainbow Bridge National Monument are featured.Travel continues to Yellowstone National Park, California (scenery, black bears, hot springs and geysers) and onto the California coast possibly Monterey (seals on rocks). Also shown are an unidentified town with oil pumps and derricks and people waterskiing" via the Human Film Studies Archives, Smithsonian Museum.
---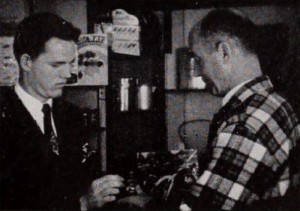 Date produced: 1948
Filmmaker(s):
Description:
"May Day Conflict is a well executed and skillfully edited family story film of the conflict created by the opening of the trout season and a flower festival both falling on May first. The central character is a good loser (the husband, of course!), as he accompanies his wife to the flower show after elaborate preparations for his fishing trip. Herbert F. Sturdy has deftly woven into the story pattern light, humorous incidents to provide amusing comedy relief from his fine floral closeup studies. Expert camera handling and smooth transitions lend a semi-professional finish to the picture." Movie Makers, Dec. 1948, 493-494.
---
Total Pages: 5