---
---
Date produced: 1932
Filmmaker(s):
Description:
"Thornwell Orphanage, planned and made by Willis Osborn, is a film study of Thornwell Orphanage, showing the scholastic, industrial and religious training of the youngsters there and presenting a subtle argument for its support. This is a difficult subject because of the problem of selecting significant and coherent action from among the almost endless possibilities. Most welfare films are too discursive and too general in treatment to secure the effect desired. Mr. Osborn has succeeded in avoiding this and has produced a film as coherent and informative as it is well photographed." Movie Makers, Dec. 1932, 560.
---
Date produced: 1965
Filmmaker(s):
Description:
"Three of Everything, the winner in Class C, is a cross section view of the advantages, equipment and materials the junior high school student finds today in a modern educational institution. Filmed at Mr. Gleason Junior High School in Sunland, Calif., the film depicts the print shop, the wood shop, the metal shop, the foundry, physical education, cooking classes, math and science, and finally graduation. With so much to assist his learning years, the film rightfully concludes that each student has, indeed, had three years of everything" PSA Journal, Sept. 1965, 51.
---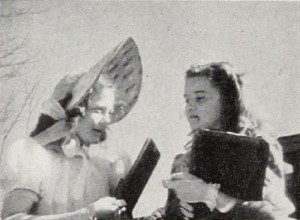 Date produced: 1942
Filmmaker(s):
Description:
"The 246 year old Voorlezer House, believed to be the oldest elementary school building still standing in the United States, is located on Staten Island, N. Y. It has long been an interesting landmark, but it is now preserved for posterity in Kodachrome by the master hand of Frank E. Gunnell. On the occasion of the one hundredth anniversary of New York City's present school system, this site was selected for one part of the ceremonies, and eighteen girls and boys, in costumes designed from illustrations in Godey's Lady's Book, went through a typical day, recreated to appear as it might have been in 1842. Mr. Gunnell's technically superb nature films are well known, but in The Voorlezer's House there is much more than immaculate cinematography. There is lighting that fits the mood of days gone by, and there is a sensitive faculty in the direction of a group of children that is appealing. The film is simple in that the continuity is chronological, but the charm of the Gunnell touch was never more telling than in this picture. If ever a potentially dull film subject was made to glow and come alive, this is the time." Movie Makers, Dec. 1942, 506.
---
Date produced: 1939
Filmmaker(s):
Description:
"Documentary: Depicts experiences of a new missionary as he gains self-confidence in his work in the Belgian Congo where the people are suspicious and only slowly accept the mission." National Archives.
---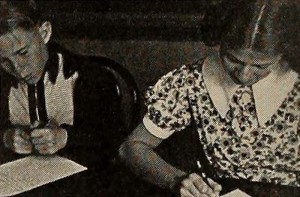 Date produced: 1938
Filmmaker(s):
Description:
"First Film and When the Cat's Away, a double header entry, which takes honors jointly because of the strong relationship between the two, is the production of the Cinema Club of Lowell Junior High School, at Long Beach. Calif., and of the club's faculty adviser, Helen Rees Clifford. First Film, largely the work of Miss Clifford, summarizes the Junior High School group's experiences in producing When the Cat's Away, which is entirely the achievement of the youngsters. Together, the two films present a clear and concise picture of the initial production of a film by a junior high school movie club, from scenario writing and movie planning to the completed opus, ready for its premiere. So, in these two reels, one sees how the job of teaching movie making technique to youngsters, of ages from eleven to fourteen, can be handled efficiently and happily, and one learns how clear and coherent a little picture can be produced as a starter. Few high school photoplay clubs have begun so well and with so little lost motion. Very few high school first films are as clear and competent as When the Cat's Away." Movie Makers, Dec. 1938, 618.
---
Date produced: 1934
Filmmaker(s):
Description:
"Why Junior High School, by Irving Pollack, ACL, gives the answer to its own question with a freshness and vigor that mark it as an outstanding amateur achievement. Classroom activities, a difficult subject, were handled with fruitful appreciation of what goes into an interesting picture. The film is marked throughout with thoroughly satisfactory photography and there are some scenes which present highly effective compositions. The story, told with a carefully worked out plan, never is allowed to become dull or uninteresting. The directorial ability of Mr. Pollack is well shown in the manner of handling those who appear in the pictures, for no evidence of self consciousness can be seen. The audience gains the impression that the picture was made by some one who knew what he wanted and went directly after it." Movie Makers, Dec. 1934, 547.
---
Total Pages: 5