---
---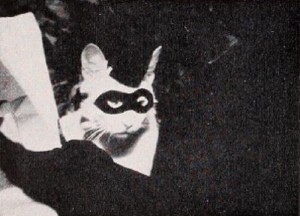 Date produced: 1948
Filmmaker(s):
Description:
"In The Magic City, Virginia Rodarmor shows a warm and winning appreciation of a child's love for fairy tales. After a delightful opening scene in which Mother pantomimes the end of a bedtime story to her three young ones, we see them being tucked away for the night. The film then pictures the children enacting, in a dream, the tale their mother has just related. A regrettable lack of steady camera support is offset by the sensitive unfolding of the story, keeping it unerringly on a level of pure fantasy. A delightful and characteristic conceit is the sequence in which the witch is transformed into a pure white cat — complete with miniature black mask and peaked hat. The role is played by the family pet with superb and feline aplomb. The Magic City is a rewarding adventure into the difficult realm of motion picture fantasy." Movie Makers, Dec. 1948, 495.
---
Date produced: 1956
Filmmaker(s):
Description:
"A short but poignant film of a crippled girl with a toy carousel which becomes very real to her. She dreams of visiting an amusement park." PSA Journal, Nov. 1956, 45.
---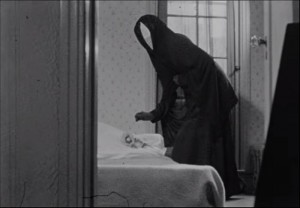 Date produced: 1943
Filmmaker(s):
Description:
"Meshes of the Afternoon is experimental in nature and exciting in its cinematic development. In it, the producers — Maya Deren and her husband. Alexander Hamid — have been concerned with the inner experiences of an individual. Although one sees on the screen the familiar backgrounds and impedimenta of physical existence, the events which transpire among them, through a summer's afternoon, portray subjective feeling rather than objective incident. Miss Deren's creative use of her camera to suggest these emotions blazes new and stimulating trails in pure cinematography." Movie Makers, Dec. 1945, 497.
---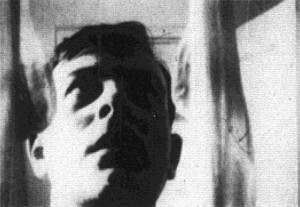 Date produced: 1961
Filmmaker(s):
Description:
"As the title may indicate, the main character had too much to drink. He responds to a dream of nightmarish proportions and finds things quite confusing. Finally, awakened, he finds the physical surroundings not much different. It all adds to the confusion of a morning after" PSA Journal, Oct. 1961, 48.
---
Date produced: 1956
Filmmaker(s):
Description:
"An animated puppet film. It shows children dreaming and then the puppets start to dance. A very short film but delightful for all ages" PSA Journal, Nov. 1956, 22.
---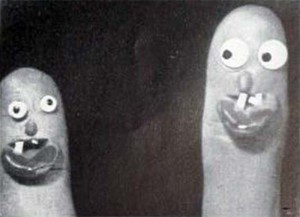 Date produced: 1936
Filmmaker(s):
Description:
"A perfectly delightful holiday in personal filming, replete with humor, and imagination, is the comedy, Nite Life, produced by J. Kinney Moore, entirely in Kodachrome and, what is more, almost entirely in interior Kodachrome, by artificial light. Mr. Moore, in his work, refutes the contention, sometimes heard, that the amateur should be wary of film comedy. And, beside negotiating this pinnacle successfully, the producer has added an outstanding technical handling of Kodachrome, as well as a highly diverting and intelligent use of the various camera illusions it is possible to produce with the aid of modern 16mm. equipment. The obvious zest and pleasure with which the actor producer entered into the creation of this film add immeasurably to its value as a genuine document of personal filming achievement. Examples of carefully planned and executed trick photography follow one another in such rapid succession in the film that the spectator is left time only to gasp. However, these tricks are not executed simply for their own sake, but strictly in accordance with the furtherance of the plot. It must be said that, in the second part of the film, the author does yield slightly to the temptation of attenuating the action somewhat in order to spin out his bag of tricks. But the film as a whole is so delightful that any audience could easily forgive this small shortcoming." Movie Makers, Dec. 1936, 542.
---
Date produced: 1934
Filmmaker(s):
Description:
"J. F. Hollywood, ACL, built his 8mm. film, Opera Night, around a child's dream and which involved magic. The tricks were accomplished by stopping the camera, holding the action, making the desired change in the subject and starting the camera again." Movie Makers, Dec. 1935, 527.

"Joseph F. Hollywood of New York City entered 'Opera Night,' shot entirely indoors with some trick stop action built around his children. A deserving effort that receives honorable mention." American Cinematographer, Feb. 1936, 73.
---
Date produced: 1933
Filmmaker(s):
Description:
"Pipe Dreams, by Joseph Dephoure, ACL, and Edward Atkins, ACL, is ranked among the year's ten best because of its considerable triumphs over dramatic and technical difficulties. Through the imagination of its producers, a small cast, simple settings and moderate footage have been used to tell a big story, rich in pictorial effect. Dreaming that he has murdered his unfaithful wife, a young man sees in prospect the swift and fearful course of his life to the waiting gallows. The murder, the trial, the death cell and the hanging are represented in large part only by the imaginative and striking use of shadows of the real scenes. Occasional straight shots are heightened in effect by unusual angles and dramatic lighting. Sensitively planned, smartly executed and deftly cut, Pipe Dreams makes its simple story exciting and forceful." Movie Makers, Dec. 1933, 500.
---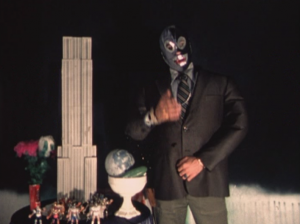 Date produced: 1978
Filmmaker(s):
Description:
"Siete cortometrajes de Maris Bustamante y Rubén Valencia, integrantes del No Grupo, que indican el acercamiento de artistas plásticos al formato súper 8. Los trabajos del No-Grupo tendieron a hacer una reflexión a la vez lúdica y crítica sobre la naturaleza del arte" Superocheros.

"Seven short films made by Maris Bustamante and Rubén Valencia, members of the No Group, that indicate the interest of artists in the plastic arts to use the super 8 format. The works of the No Group were usually a playful and critical reflexion on the nature of art" Superocheros.
---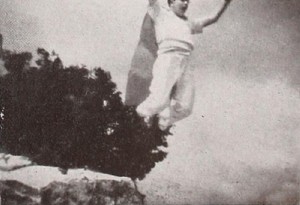 Date produced: 1943
Filmmaker(s):
Description:
"Donald H. Kelly has cast a comic strip character in Superman Goes West, integrating travel sequences and comedy with great success. While the magnificent cinematographic record of a Western trip is the most engaging factor of the film, the entertainment value of the Superman motif cannot be minimized. The fictional hero is shown to be the consuming interest of a small boy passenger on the trip. The lad proceeds to read Superman comics under varying conditions, despite a changing background of allegedly awe inspiring scenery. One dream sequence with a Superman flavor is a triumph of trick cinematography." Movie Makers, Dec. 1943, 478.
---
Total Pages: 4