---
---
Date produced: 1951
Filmmaker(s):
Description:
"Film about three little boys, played by Doug, Bill and Lorne Woodley, the sons of Charles Devenish Woodley, visiting the Canadian National Exhibition in Toronto on a sunny day." Library and Archives Canada.
---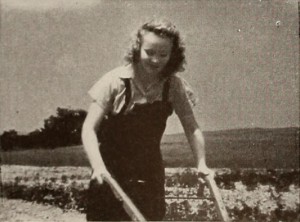 Date produced: 1942
Filmmaker(s):
Description:
"Ross M. Gridley, filmer of By the Garden Steps, is an agricultural teacher who knows that many films used in education are, although they need not be, dull. He writes that he wanted "to prove that it is possible, as well as desirable, to increase interest by adding a touch of drama to instructional films, without losing any of the teaching value from a scientific standpoint." With this very sensible idea, Mr. Gridley tells the tale of three sisters who grow a 4-H Victory Garden. When they have worked away long enough for the audience to realize that a little more footage will be repetitive, the story shifts to a couple of youngsters who are shooting at targets. By means of a toy airplane which is given rough treatment as a Nazi invader and which the girls mistake for a new kind of garden insect, the boys meet the girls. Finally, prize day comes, and the boys add an unexpected tribute to the girls whose tomatoes are honored. In cinematography, in handling subject matter and in the capacity to fit teaching objectives into the methods of movie making, Mr. Gridley has done a sound piece of work. Girls who see the film will catch the idea and will wonder if they, too, should not have a Victory Garden." Movie Makers, Dec. 1942, 507.
---
Date produced: 1940
Filmmaker(s):
Description:
"Portrait of Calhoun School, founded in 1892, and its vocational work among rural African Americans of Lowndes County, Alabama. The film shows the living conditions of the poor and illustrates how the school makes a difference in health education, agriculture, and road construction." The Field Guide to Sponsored Films.
---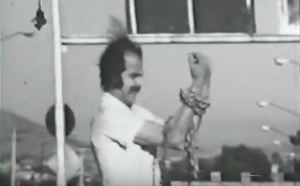 Date produced: 1971
Filmmaker(s):
Description:
"A successful man living in a great metropolis is increasing awareness of the unjust social reality that lives in the absurdity. This immerses him in a uneasiness that sinks into alcoholism and depression. In his wandering through the streets viewer gets to be the unfortunate suicide of another victim of the meaninglessness of life, which will produce a series of dreamlike hallucinations bordering on the madness. In a stroke of consciousness of his misfortune, he does run aimlessly without course. Devastated, to the dawn, with the light of the dawn he sees to be reborn the hope personified in an innocent girl who stretches the hand donating bread" Internet Archive.
---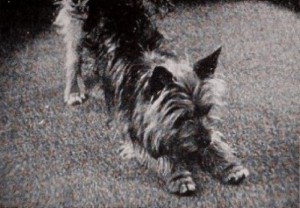 Date produced: 1948
Filmmaker(s):
Description:
"A young girl and an Australian terrier named Frisco are the ingredients of Calling Frisco, a sound on film story in which the speech is mostly from the dog's point of view. The film flows smoothly through typical scenes of a day's activities of eating and going to market and playing, ending in a dramatic climax in which Frisco protects his young mistress by warning off an intruder. Imaginative viewpoints and pleasant interior lighting are employed throughout. The dog's simple tricks are well pictured without being obtrusive, while the scene in which a bouncing ball lands in a goldfish tank, with its accompanying sound track, has the creative fantasy of Disney. Cyril Stevens has made a jolly film. " Movie Makers, Dec. 1948, 493.
---
Date produced: 1952
Filmmaker(s):
Description:
A Camper and His Canoe was filmed at Camp Kawagama, the youth summer camp ran by the filmmaker and his wife.
---
Date produced: 1952
Filmmaker(s):
Description:
"Film about canoeing, featuring members of the Charles Devenish Woodley family." Library and Archives Canada.
---
Date produced: 1935
Filmmaker(s):
Description:
"Children Grow Up, photographed by Charles J. Carbonaro, ACL, and produced by The Religious Motion Picture Foundation, is one of the best examples of effectively handling amateur actors in a story telling film yet made. This three reel film was avowedly produced to point a moral in parent and child relationships and, as such, may be classed as social propaganda, a function in which it succeeds admirably. Yet the story it tells seems genuine and is of general audience interest. The film is carefully cut so that the action is logical and smoothly paced. Mr. Carbonaro is particularly to be congratulated for his handling of the difficult technique of parallel action, which occurs as the development of the children of two separate families takes place. Both streams of interest merge into one in a well planned, dramatic climax. The story is told entirely with the aid of amateur actors. Interior shots are in the majority and, for these, no special sets were built, the furnishings of the ordinary home being used. The lighting and exposure under these conditions are excellent throughout." Movie Makers, Dec. 1935, 534.
---
Date produced: 1938
Filmmaker(s):
Description:
"Documentary: Depicts lives of children in the Belgian Congo and French Cameroon." National Archives.
---
Date produced: 1959
Filmmaker(s):
Description:
"Excellent documentary of the care and treatment of (cerebral palsy) spastic children. The very thought of the subject may bring us sharply to the realization of our good fortune. The picture handles the subject with fine touches of human interest and may cause us to feel thankful that there are those who will devote their time and energies to this work. It must be tremendously rewarding to see the children learn to walk and do things under their own power and control. A truly enlightening picture" PSA Journal, Nov. 1959, 48.
---
Total Pages: 13