---
---
Date produced: 1959
Filmmaker(s):
Description:
"Film of picturesque scenes of flowing water." Library and Archives Canada.
---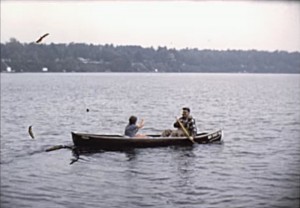 Date produced: 1971
Filmmaker(s):
Description:
A married couple and a friend go on a fishing trip. The film shows them playfully preparing for the journey, driving to the lake, and partaking in fishing and canoeing.
---
Date produced: 1935
Filmmaker(s):
Description:
"Edited film used by an amateur travel-lecturer documents travel in western and southwestern United States beginning at a rodeo in Phillipsburg, Kansas (trick riding, lassoing jack rabbits, roping calfs, wrestling steers, horse races, bucking broncos and bucking steers as well as scenes of an airplane flyover and of an airplane crashing which possibly was a stunt) and continuing to Black Hills, South Dakota (forest scenery and ca. 1927 construction of Mount Rushmore--blasting off cliff face, scaffolding, men working and completed monument). Shown are roadside scenery, railroad tracks, men cleaning railroad tracks with hose and tank on small train car on the way to an unidentified mountain fishing camp possibly in Colorado (canoeing, fishing in stream, and a smokehouse) and a mountain farm where colts are branded. Cog railway is taken up to Pike's Peak. Travels continue to to the Southwest (unidentified southwestern town possibly Santa Fe with adobe buildings and men and children in Mexican dress singing and playing guitar, American Indian dance performance indoors possibly Zuni, parade of American Indians in unidentified city perhaps Gallup and Navajo band. Scenes of the southwest continue with Navajo in Canyon de Chelly (hogans and herding sheep), prehistoric archaeological sites (Mesa Verde, Chaco Canyon another unidentified cliff dwelling possibly Montezuma's castle) and Taos Pueblo. Film records American Indian dances at a gathering of Indian tribes possibly at Gallup, intertribal horse races and women's tug-of-war. Hopi are shown dancing at Hopi. Also shown are Indian women (possibly Apache or Navajo) and children together and children in cradleboard and the Navajo reservation (hogans, women spinning and weaving under a ramada, herds of sheep and goats and "dipping sheep"). Natural wonders of Grand Canyon, Monument Valley and Rainbow Bridge National Monument are featured.Travel continues to Yellowstone National Park, California (scenery, black bears, hot springs and geysers) and onto the California coast possibly Monterey (seals on rocks). Also shown are an unidentified town with oil pumps and derricks and people waterskiing" via the Human Film Studies Archives, Smithsonian Museum.
---
Date produced: 1934
Filmmaker(s):
Description:
"Made by F. D. Koehler, jr., ACL, The Mississauga Canoe Trip is a fine example of what the movie maker can accomplish on a hunting trip in capturing a picture that has both good photography and an interesting story presentation. The fact that a tripod was added to the duffel did not daunt this cinematic hunter, and the result is refreshingly rock steady pictures that leave nothing to be desired. Perfect exposure, for the most part, and some excellent lighting show that the maker had an eye for the essentials of good picture making. A knowledge of what makes a good screen picture is demonstrated in the many effective closeups throughout the film. An excellent job of amateur titling is another feature that places this film in a high category for vacation films." Movie Makers, Dec. 1934, 534.
---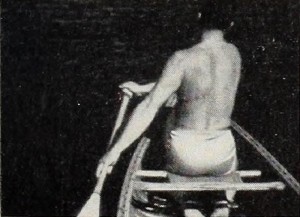 Date produced: 1950
Filmmaker(s):
Description:
"To realize that paddling bow position in a canoe can be the sole subject of an entire film should surprise any reasonable movie maker. But when you consider that Paddle Up Front! is a physical-education teaching film, it is not so surprising. Naturally, the continuity treatment is repetitious, as all teaching-film plans are likely to be. But C. Roy Terry, jr., production director, ably demonstrates that the person who occupies the forward position in a canoe has an important job when it is done properly. The photography by Ellis A. Ring is workmanlike, particularly in cross lighted scenes which point up the muscle movements in various strokes by the paddler. The didactic narrative seems unnecessarily obvious in places, but it probably is justified when one considers the specific purpose of the film." Movie Makers, Dec. 1950, 468.
---
Date produced: 1955
Filmmaker(s):
Description:
"Film depicts a club picnic held at a Eaton Hall Farm. Film includes title cards. Footage includes families at picnic, playing games, canoeing, swimming and people filming with motion picture cameras" Archives of Ontario.
---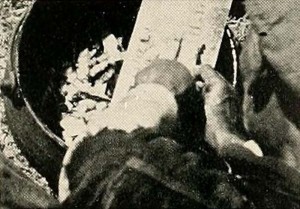 Date produced: 1936
Filmmaker(s):
Description:
"Porpoise Oil presents a cleverly planned and charming story that shows how the Indians of the upper St. Lawrence region live today and how their ancestors obtained oil from the porpoise of the neighboring bays. Dr. Leighton was fortunate enough to find an old Indian who, in his younger days, had been a champion porpoise hunter and the picture tells in Kodachrome how the fish was shot and the oil tried. This constitutes an important document of Indian craft that, otherwise, in time would be lost to the world. A touch of humor throughout and a surprise ending serve to spice the film and to make it the excellent study that it is instead of a routine record film. The continuity is well developed and the photography is of good quality." Movie Makers, Dec. 1937, 630.
---
Date produced: 1936
Filmmaker(s):
Description:
"Last, but by no means least on the list of honorable mentions, is Duncan MacD. Little's 'Voyageur's Trail,' a news film of a four-day canoe race in Canada. This film, photographed perforce under whatever conditions happened to obtain at the moment the action occurred, represents a remarkable achievement in amateur news filming, for which Little is to be commended in the highest terms." American Cinematographer, Feb. 1938, 78.
---
Total Pages: 2