---
---
Date produced: 1938
Filmmaker(s):
Description:
"Shows Don and Phylllis Munday family travelling by boat from Vancouver to Bella Coola, then by pack train into Tweedsmuir Park, and visiting various natural sites" British Columbia Archives.
---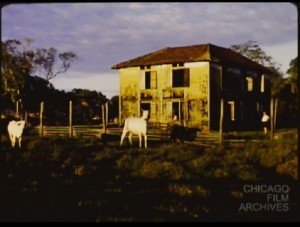 Date produced: 1957
Filmmaker(s):
Description:
"2 part edited travelogue film of the people and customs encountered in towns along the Amazon River in South America. Part one includes landscapes, a variety of housing from towns to shacks along the river, people selling goods, trapping and selling exotic animals, herding cattle, boating, and a religious ceremony." Chicago Film Archives.
---
Date produced:
Filmmaker(s):
Description:
"Begins with a close-up intro of the Davis's in a small boat. One of the girls falls overboard and is saved. A woman drops her jewels overboard. Family disembarks. Finds a clue on a piece of paper. The Family sets out in boat with shovels, saws, axes, etc. Quarrel with another family. Find a deed." oldfilm.org
---
Date produced: 1959
Filmmaker(s):
Description:
"Sites around Norway." UC San Diego Library.
---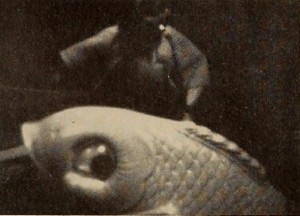 Date produced: 1949
Filmmaker(s):
Description:
"Neither the lead title nor the unpretentious opening scenes — as a small boy is seen building a crude toy boat — prepares the spectator for the pure enchantment of One Summer Day. For, almost unrealized even as it happens, the film melts with incredible smoothness from live action into animation and make-believe. The toy boat becomes a pirate galleon of old, a flower a maiden in distress and a twig her gallant suitor, as there unfolds a tale of romantic derring-do. Under cover of darkness, the pirates plot to kidnap the lady, whose protector, a humble fisherman, is away at his nets. He returns, only to be bested in the ensuing sword play, yet, undaunted, he still gives chase. With the help of a friendly whale, he overtakes the pirates, frees his lady and, as the galleon goes down in flames, the lovers return to shore, to live happily ever after. Then, as quietly as it all began, we are back at the edge of the sunlit pond. The boy lifts his boat from the water and turns homeward. And yet, through the true magic of the movies, we have entered for a brief moment childhood's enchanted world. Highly imaginative camera handling, technical skill and a keen sense of cinematic values make this an outstanding example of personal filming. The musical accompaniment and sound effects (including the cling-clang-cling of clashing swords) complement the picture perfectly. Glen Turner has added a new dimension to amateur filming with this simple story so superbly told in its brief 350 feet of 8mm. film." Movie Makers, Dec. 1949, 452-453.
---
Date produced: 1964
Filmmaker(s):
Description:
"Racing Stars tells the story of a contest of boating enthusiasts in the Star class of sail boats. The Star is used primarily for racing, is about 23 feet long, has a keel with a 900 pound weight at the bottom, and carries only two sails, a main and a jib. Standards assure similarity of boats, of which there are about 5000 in all parts of the world. An animated diagram shows how Star boats follow the prescribed course in a contest An excellent commentary with superb photography keeps this picture moving with never a let-up, and any landlubber can smell the sea air by the time the picture ends" PSA Journal, Sept. 1964, 50.
---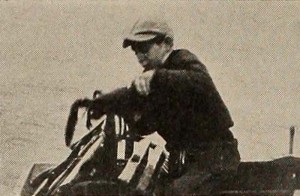 Date produced: 1938
Filmmaker(s):
Description:
"The story, older than the craft of lobster fishing, of a ten year old boy earning his own first few pennies is told beautifully and sensitively in Riches from the Sea, by T. J. Courtney. As simple and human as the life of those it pictures, this film captures the spirit of the young fisher boy as he goes about his work of baiting and dropping lobster pots. They are his own, just given by his father. The money he makes from selling the lobsters he catches, some of which he boils on the beach, is also his own. Finally, when the last one is purchased by tourists along the dusty road and the boy races to the village, clutching his coins, to buy the coveted store window toy, the picture swells to its climax, fully equal to the importance of the occasion in the youngster's life. Lovely angles and expert composition bring beauty in black and white to the photography, and the acting, by Philip Boutilier and his little sister Lorraine, of Seabright, Nova Scotia, is unaffected and agreeable. This photoplay illustrates how completely the locale and life of an interesting community can be conveyed by threading it on a simple story of human nature." Movie Makers, Dec. 1938, 597.
---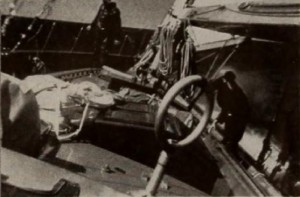 Date produced: 1953
Filmmaker(s):
Description:
"Lovers of boats and devotees of movie making alike will probably never see enough of Rochester Race, produced by Walter F. Chappelle jr. in the summer of 1952. For this picture is one of the most complete and authentic records of big-league yacht racing that has been produced to date. For big league indeed was the 72 foot yawl Escapade, owned by Wendell Anderson of the Detroit Yacht Club and sailing as scratch boat in the Rochester point-to-point race westward to Hamilton, Ont., eastward to Stony Point Light, and then back to the Rochester inlet. And big league too was Mr. Chappelle's detailed coverage of this grind, as the proud beauty — with a crew of fourteen and 2630 square feet of working sail area — barreled through heavy seas, slatted and drifted in the calms — but came home by 38 seconds the winner. Working under difficult (and often dangerous) conditions, the producer nevertheless achieved a variety and quality of scenes which are amazing. His handling of side or back lighting, as a big Genoa or spinnaker jib arched out from the Escapade, creates many moments of breath-taking beauty. With Rochester Race Mr. Chappelle has proved beyond the cavil of superstitious yachtsmen that a fine movie may be made on a fine racing craft — and yet still win the race." Movie Makers, Dec. 1953, 332-333.
---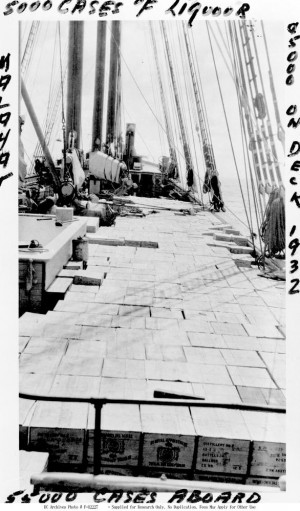 Date produced: 1933
Filmmaker(s):
Description:
"Depicts a rum-running expedition from Victoria to "Rum Row" off the California coast with the mother ship M.V. Malahat. The tender M.V. Hickey is shown transferring cases of liquor to American vessels and avoiding US Navy cutters. At San Martin Island, Mexico, the Hickey puts in for repairs." (BC Archives)

NOTE: The original reversal film was lost in the 1990s after being sent out for video transfer in Vancouver. Only the BC Archives analog video transfer is extant.
---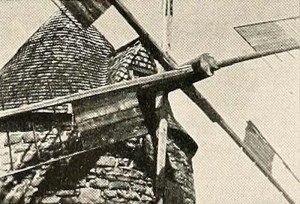 Date produced: 1937
Filmmaker(s):
Description:
"The majesty of one of North America's greatest rivers is the theme of Walter Downs's Saga of the St. Lawrence. Stunning Kodachrome views of this mighty stream picture it from the decks of a river steamer. The ship is used as a mechanism for carrying the continuity theme forward and for providing smooth "trucking" shots of the passing shoreline. Brief stops offered the opportunity for sequences that show the character of the country and its people with the sympathy and understanding of one who knows the region well. These also punctuated the film in a pleasant and interesting fashion. The picture is accompanied by a musical background and some sound effects, all done by double turntable. This is a gracious and capable film of high photographic quality." Movie Makers, Dec. 1937, 630.
---
Total Pages: 4