---
---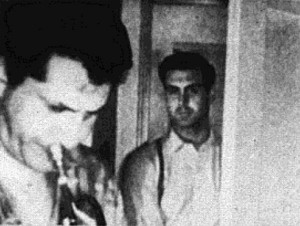 Date produced: 1954
Filmmaker(s):
Description:
"The Horn, which hepeats should not confuse with Dorothy Baker's epic Young Man With a Horn, is nevertheless a yarn about a jazz trumpeter—and, like Miss Baker's Rick Martin, one whose life ends in death after he loses his stuff. It is a swift, savage, tender and tragic tale which Dominic Mumolo (himself a professional musician) tells here. And to its telling he has brought with amazing proficiency every resource—imagery, acting, music, speech and pace—of high motion picture drama. Herb Willis plays the part of the manic and despairing trumpeter as if to the manner born. His miming makes this difficult and decisive role wholly believable, while his voice (used not as narration, but in a musing, stream-of-consciousness flashback) is by turns tender, pathetic, searing and passionate. Musical phrases, prepared especially for the picture by Frank Worth, add immeasurably to the film's power. The Horn is a stirring and trenchant study in human emotions. If you dislike having your heartbeat aroused, you'd better avoid it. But if not...then The Horn is a movie made for you" PSA Journal, Jan. 1955, 49.
---
Date produced: 1966
Description:
"The Knife is a deft little story film concerning a jealous husband who suspects a local artist of making time with his wife. Grabbing the artist's knife, he stabs the artist in the back, but the result is not at all what he, nor the audience, expects" PSA Journal, Sept. 1966, 35.
---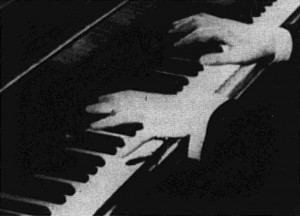 Date produced: 1959
Filmmaker(s):
Description:
"This is a short story about a musician, a pianist who has enjoyed the pleasure and popularity of concerts in many cities of Europe. And then came the war! Even in the thick of battle, when his fingers must play a different keyboard, music does not leave his mind. The picture closes with the last concert, simple, but forceful in its emotional impact" PSA Journal, Nov. 1959, 48.
---
Date produced: 1995
Filmmaker(s):
Description:
Documentary film chronicling the background and production of Dinosaur Dream (1995), which Sid Laverents made in his late-80s with assistance from his wife, Charlotte.
---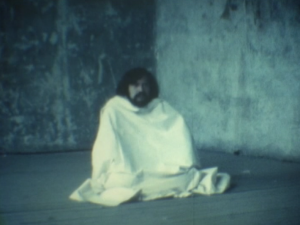 Date produced: 1970
Filmmaker(s):
Description:
"Two Visual Arts students of the San Carlos Academy find themselves embroiled in contradictions, spiritual inclinations and concerns about the political and social conditions of Mexico, which puts them in a quandary about what stance to take in the Student Movement of 1968." Ambulante.
---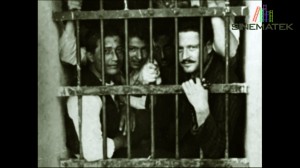 Date produced: 1979
Filmmaker(s):
Description:
"Sinematek.TV film arkeolojisine devam ediyor! 1979 yılında Stockholm'da düzenlenen Nazım Hikmet'i Anma Gecesi'ndeki Ruhi Su, Zülfü Livaneli, Tuncel Kurtiz'in performansları Muammer Özer tarafından kaydedilmiş ve İlk defa Sinematek.tv tarafından yayınlanıyor." Sinematek.tv: http://sinematek.tv/nazim-hikmet-anmasi-stockholm-1979/ (15 November 2019).
"Sinematek TV continues its film archeology! Muammer Özer's film of a commemoration night for Nazım Hikmet displays Ruhi Su, Zülfü Livnaeli, and Tuncel Kurtiz and Sinematek.tv screens it for the first time." Sinematek.tv: http://sinematek.tv/nazim-hikmet-anmasi-stockholm-1979/ (15 November 2019).
---
Date produced: 1964
Filmmaker(s):
Description:
"The One Man Band shows the filmer, Sid Laverents, playing about six instruments all at once, not to mention an old auto horn squeezed in between his knees that would compete well with Spike Jones, He explains what he is up to as a one man band, then plays two or three selections. A lively and entertaining film" PSA Journal, Sept. 1964, 51.
---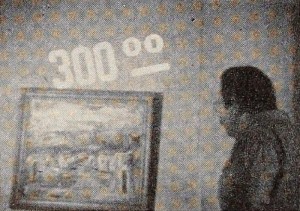 Date produced: 1952
Filmmaker(s):
Description:
"In Paintings, George E. Canning has hung his story on a simple plot that serves to display an artist's works. A lady makes an appointment with the artist with the intent of making a purchase. The artist, beset by a pile of bills, wonders what he should charge or hope to get; and here figures expressing his thoughts are cleverly superimposed on the scenes of action. The paintings are interesting in themselves for their variety of subject matter and style (this fact rather belies the artist's penury), and the interior lighting throughout the film is excellent. The artist (John S. Arhorn) is well played by himself, the lady by Julia Canning. One could wish that the plot's denouement is not so readily anticipated." Movie Makers, Dec. 1952, 340.
---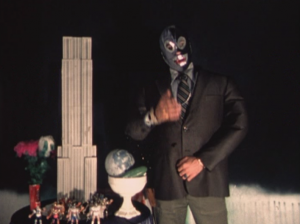 Date produced: 1978
Filmmaker(s):
Description:
"Siete cortometrajes de Maris Bustamante y Rubén Valencia, integrantes del No Grupo, que indican el acercamiento de artistas plásticos al formato súper 8. Los trabajos del No-Grupo tendieron a hacer una reflexión a la vez lúdica y crítica sobre la naturaleza del arte" Superocheros.

"Seven short films made by Maris Bustamante and Rubén Valencia, members of the No Group, that indicate the interest of artists in the plastic arts to use the super 8 format. The works of the No Group were usually a playful and critical reflexion on the nature of art" Superocheros.
---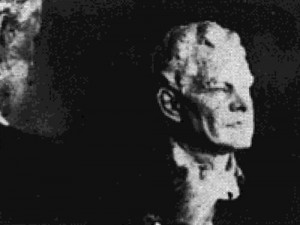 Date produced: 1965
Filmmaker(s):
Description:
"Portrait in Bronze is an excellent documentary of the making of a bronze bust from the first sitting and the sculpturing in clay right on through to the finished product. The original was shot on Ektachrome commercial and the projection print is excellent in every particular - a large factor in the film's success. It received the MPD Golden Scissors Award for best editing of any film in the contest" PSA Journal, Sept. 1965, 50.
---
Total Pages: 3