---
---
Date produced: 1957
Filmmaker(s):
Description:
"Title, 'Nequasset Bridge is on new location of Route 1 near the famous ship-building city of Bath.'" oldfilm.org
---
Date produced: 1959
Filmmaker(s):
Description:
"Sites around Norway." UC San Diego Library.
---
Date produced: 1949
Filmmaker(s):
Description:
"Bridge construction, Meadow Brook Bridge, Maine. 'Opeechee Stream Bridge, Searsport' 'The Gypsie Bridge Builders enjoy the summer breezes of Penobscot Bay while replacing one of the few stone bridges remaining on Route 1.' Detailed documentation of bridge building in rural Maine." oldfilm.org
---
Date produced: 1949
Filmmaker(s):
Description:
"Item is a film production of a trip from Naples to Nice taken by Dr. Willinsky and his wife, Sadie. In the form of a travelogue, footage of landmarks, ancient ruins and the local population is interspersed with captions and maps that were added in by Dr. Willinsky to denote locations and offer context. Featured cities include, Pompeii, Salerno, Rome, Cannes, Antibes, and Menton. Footage includes shots of Vesuvius, images taken from a gondala ride in Venice, Venetian street performers, market scenes, cathedrals, children dressed in costumes for a carnival, and various local craftsmen at work. Sadie is occassionally spotted in the footage interacting with locals and with travel companions who are probably relatives or family friends." Ontario Jewish Archives.
---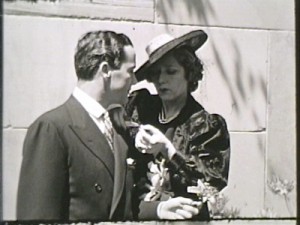 Date produced: 1969
Filmmaker(s):
Description:
"Black-and-white home movie provides a tour of Rockefeller Center, including scenes of Mary Pickford and Buddy Rogers at a garden event." oldfilm.org
---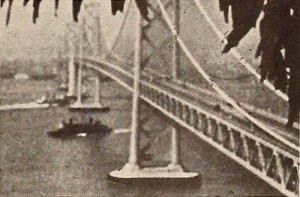 Date produced: 1938
Filmmaker(s):
Description:
"To present, on 8mm. Kodachrome, where the problem of definition in distant shots is made more difficult by the greater screen enlargement in projection, a serious and satisfying architectural study of a structure that extends not a few hundred feet into the air, but thousands of feet horizontally, is a task that calls for skill in movie making. Raymond O'Connell, in San Francisco — Oakland Bay Bridge, has exhibited that skill and has to his credit, in this film, a definite accomplishment. The study is rendered comprehensible to the audience, at the very outset, by the use of a model of the bridge, which is introduced in the course of the picture, with excellent effect. In several instances, one passes from a shot of the model to another of the actual structure from the same angle, and so easily that it is possible to forget the cinematic labor put forth in finding a vantage point for the camera to show exactly what was needed. Of especial merit are shots of the changing pattern of the cables, made from a moving motor car, which provide a fine essay in abstract design." Movie Makers, Dec. 1938, 620.
---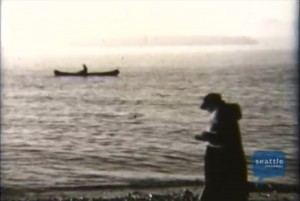 Date produced: 1933
Filmmaker(s):
Description:
"This rare footage of Seattle and environs in the 1930s was shot by amateur filmmaker Iwao Matsushita. See downtown streets and sidewalks, Lincoln Park, Seward Park, Volunteer Park, a UW football game, rambunctious kitties and other surprises from more than 60 years ago." Seattle Channel.
---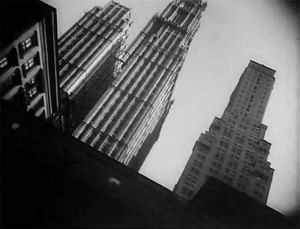 Date produced: 1929
Filmmaker(s):
Description:
"The hard-edged graphics of 'Skyscraper Symphony' stand in contrast to other New York 'scenics' produced during the 1920s. Composed of skewed perspectives, Robert Florey's camera looks straight up the domineering concrete behemoths. And it is hard to determine if the film mimics symphonic form as the title suggests or whether it advances a new methodology in musical-visual shot progression that reflects the alien structures depicted." —Bruce Posner via Light Cone
---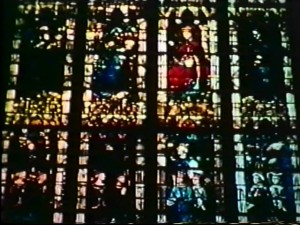 Date produced: 1932
Filmmaker(s):
Description:
"Studies in Blue and Chartres Cathedral, a cerulean cinema achievement, one 400 foot reel in full Kodacolor by John V. Hansen, ACL, shows what an artist's and a colorist's eye can select and record. While this film is in some sense a travel record, Mr. Hansen definitely made it a point to choose those scenes and vistas that revealed the open sky, whether seen in patches through the interlaced branches of trees or as a dim, distance haze, shimmering up from the tops of far off mountains. Here are deep blue skies overhead, merging into white mist at the horizon, apple green, azure, so many hues that it is a revelation to see that a mechanical process can so beautifully record nature. Mr. Hansen presents to the audience's eyes such a varying kaleidoscope of blending colors in his continuity that it is difficult to do the entire effect justice by mere description. But among his outstanding technical achievements are the recording of sunlit glades in a dense forest, especially effective cloud and sunset shots, distant and close shots and side lighting and backlighting in profusion. A further, outstanding triumph in color technique was shown in Mr. Hansen's recording of the vivid, glowing hues of the stained glass windows, taken from the interior of the cathedral at Chartres. Here, he succeeded in capturing that peculiar, deep dyed transparency found only in the colors of old stained glass. It is questionable if any other method of reproducing color can give such a real and beautiful rendition of stained windows as the motion picture. Certainly no color printing process can compete. The film was rounded out by some charming long shots of the carefully cultivated, rolling hills of Denmark." Movie Makers, Dec. 1932, 538, 560.
---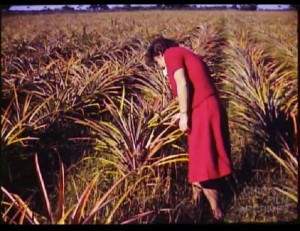 Date produced: 1946
Filmmaker(s):
Description:
"2 part edited travelogue of the industries and everyday life in featured cities of Cuba. Part 1 begins in Havana before travelling to smaller cities, with a focus on buildings, crops and the everyday lives of the people. Part 2 primarily focuses on industry and includes scenes of a tile factory, basket weaving, as well as the farming of potatoes, sugar cane, bananas, and peanuts. The film also features historical monuments, boating, children at school, cock fights, vendors selling wares, and fishing. People demonstrate manual methods of labor like harvesting crops and cutting grass with machines lead by cattle." Chicago Film Archives.
---
Total Pages: 6