---
---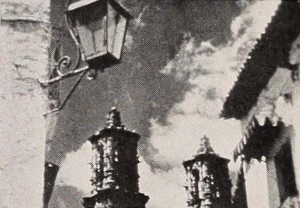 Date produced: 1939
Filmmaker(s):
Description:
"Mexican Silhouette, conceived as a gamble, has grown up to glory. After but a few years of average movie making experience, Clement K. Chase — as with so many — felt an irresistible urge to attempt, in one film, a concentration of all his accumulated skill and experience. He turned to a subject he knew with intimacy and affection, and Mexican Silhouette was the result. It is a splendid educational and general interest study, divided flexibly into three main sections — Mexico, D. F., Mexican Agriculture and Mexican Cities. To these subjects, Mr. Chase has brought a mature photographic skill, marked by tripod steadiness, stimulating compositions and a dramatic feeling for the use of filters. Well titled in the original silent version, the film is now being distributed commercially in both sound and silent editions." Movie Makers, Dec. 1939, 633.
---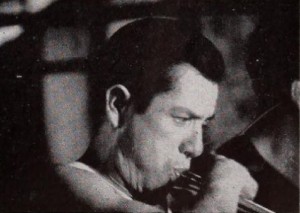 Date produced: 1948
Filmmaker(s):
Description:
"Having forsaken the good land of tequila for the gypsy life of a trailerite, Ralph E. Gray presents what may be the last in a long line of distinguished human record films on America's southern neighbor. Mexico At Work And At Play displays recurrently in its many and varied sequences the opulent camera work and warm eye for color which have marked all of Mr. Gray's award winners. Mirrored in the present movie are such native occupations as sugar cane farming and mescal distilling, such handicrafts as glass blowing and opal polishing, such diversions as cock fighting and an Easter Passion Play. Mr. Gray's treatment of these and other colorful subjects is leisurely, loving and methodical." Movie Makers, Dec. 1948, 494.
---
Date produced: 1939
Filmmaker(s):
Description:
"On the Baptist Kimpese Mission Station, Republic of the Congo." National Archives.
---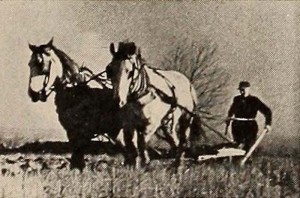 Date produced: 1938
Filmmaker(s):
Description:
"Charles A. Ferrie, jr., an urban movie maker, has gone back to the land for the beauty and charm of Mother Earth. Here, in carefully filtered and unfailingly well composed shots, he has caught the moist freshness of newly turned soil, the delicate loveliness of waving grain, the quiet dignity of men going about the homely tasks of the farm. His method of subject matter treatment has been to study these things from the outside, as a sensitive spectator, rather than to involve them (and the spectator) in a story told against such backgrounds. Mr. Ferrie's photography is consistently good and often striking, while his sequencing adds much of interest and inspiration to an essentially pastoral subject." Movie Makers, Dec. 1938, 620.
---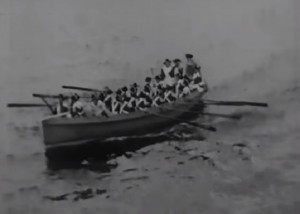 Date produced: 1937
Filmmaker(s):
Description:
"The subject of 'Nation Builders'—the history of Australia—is without doubt the most ambitious ever undertaken by any amateur filmer. The fact that the project was successful is in itself a tribute to Sherlock's skill. Granted that in connection with the 150th anniversary of his nation's founding there were pageants re-enacting historic events and an opportunity for an alter filmster to photograph them: but how many times have not other amateurs scored dismal failures trying the same thing? Filming such a pageant, it is all too easy to capture only the impression of history actually happening. The twentieth century background which must so often have been just beyond the camera-lines was never permitted to intrude upon his eighteenth and nineteenth century action." American Cinematographer, Feb. 1939, 61.
---
Date produced:
Filmmaker(s):
Description:
"Un-staged documentary footage shot and edited by Sallie Wagner. Sallie's description of the film: 'Wide Ruins and area, farming Navajos, Black Rock - Medicine Man, Cut Hair plowing, Joe Toddy following Cut Hair, planting, Patsy Martin standing on Cultivator, Jim House's wife husking corn, Paul Jones helping husk corn, sheep dipping at Ganado, Dwight Wagner viewing sheep dipping, wool shearing at Wide Ruins, loading sheep at Chambers, tall man in tan outfit Bill Cousins, Bent Knee sitting on fence, Crip Chee's grandson in closing scene'." New Mexico States Archives.
---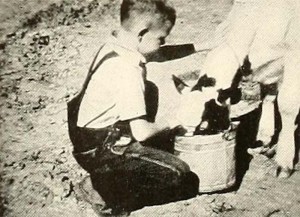 Date produced: 1940
Filmmaker(s):
Description:
"On the Farm, made by Mr. and Mrs. Ray Garner for the Harmon Foundation, is an example of visual education at its best. By the use of two charming, healthy little American children as the chief characters, it enlists sympathy before it attempts to instruct. And it never strays from the fundamental concept which, to all evidence, was in the minds of its makers: namely that, to teach children by visual aids, one must appeal to their sense of fun. Charm, here, is not outlawed simply because it is not informative. Divided into two parts, Morning and Afternoon, and illustrated with unpretentious titles, such as This is how the animals help, which are chalked in white letters on a blackboard, On the Farm tells of a common workday, in terms of what two farm children can do to assist their parents. From the sequence in which the tousled farm lad puts his head out of the window to see what kind of a daybreak it is. to the time when the sun goes down behind the silo, almost every kind of farm activity is shown. Other children in city classrooms are going to see themselves in the scenes and will want to learn more about a way of life in which they can feel so much at home." Movie Makers, Dec. 1940, 600-601.
---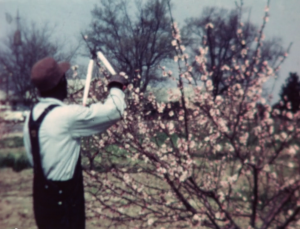 Date produced: 1967
Filmmaker(s):
Description:
"The life cycle of the peach -- from peach blossom to peach pie" (Holmes, 2018).
---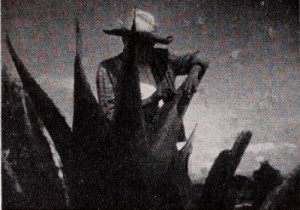 Date produced: 1948
Filmmaker(s):
Description:
"Alan Probert has confined his study of Mexico to the primitive Otomi Indians. With startling clarity and a fine cinematic eye for detail, he presents the tribal group in a series of sketches that reveal the age old customs of their forefathers still in daily use — sowing and reaping, spinning and weaving, trading and worshipping. Remnants Of The Past is an expertly filmed factual account of the subject, which would have gained considerably from greater unity and a stronger ending." Movie Makers, Dec. 1948, 494.
---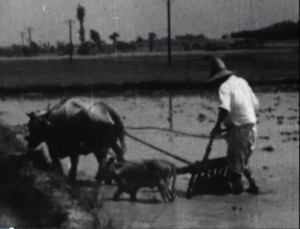 Date produced: 1932
Filmmaker(s):
Description:
"Documentary: On peasant farm life in Korea, the rice crop and family labor." National Archives.

"'Rice,' a three reel subject in the educational class entered by F. C. Ells of Yokohama, Japan, demonstrated a fine appreciation of production and photographic values as well as how to combine it so as to make entertainment. Many were of the opinion that this picture, if it were in 35mm, would be worthy of professional theatre presentation." American Cinematographer, Dec. 1933, 321.
---
Total Pages: 5