---
---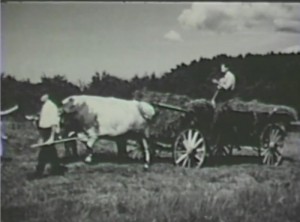 Date produced: 1934
Filmmaker(s):
Description:
"Film depicting the 1755 Expulsion of the Acadians from Grand Pre, Nova Scotia. Silent footage interspersed with written text. Scenes show the Grand Pre Church and various shots of farm life. An actress portrays Evangeline." Nova Scotia Archives.
---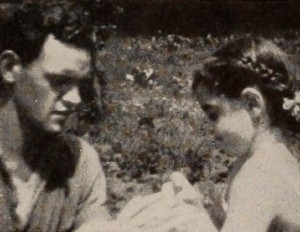 Date produced: 1947
Filmmaker(s):
Description:
"Terry Manos takes his family and his audience to the country and shows us what Farm Frolics are for those who live rurally and what fun city children can get from participating in them. Against a background of farm life that is shown largely by indirection, the children romp and play little tricks on each other, while the understanding adults take a good humored part in the proceedings. Mr. Manos's camera work is imaginative, making the most of the abundant material at hand. His greatest achievement is the creation of a fine family film that, because of its lively farm background, also holds audience interest." Movie Makers, Dec. 1947, 537.
---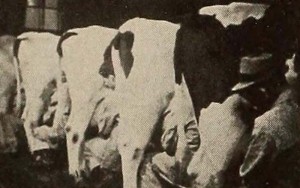 Date produced: 1938
Filmmaker(s):
Description:
"Well known for its attainments in the commercial film field, the T. W. Willard Motion Picture Company sets a new high in its publicity productions with Follow the Plow. To technical excellence they have added sound sequencing; into a record of vocational education, they have instilled beauty and human interest. The subject matter concerns the training given to selected city boys in the fundamentals of farming at the Bowdoin Farm, operated by the Children's Aid Society of New York City. Tracing the course of these boys from the sidewalks and streets to the fields, at New Hamburg, N. Y., the location of the farm, the film expands with the glorious color of the autumn country and becomes a living essay of the pleasures of farm life. Constantly changing angles and intelligent titling lend pace to the production. Despite the limited interest in the specific subject of plows and cows, the appeal is made universal through magnificent color scenes and competent treatment." Movie Makers, Dec. 1938, 618.
---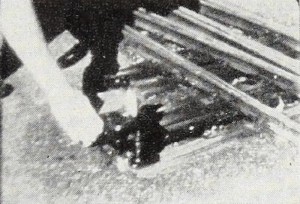 Date produced: 1951
Filmmaker(s):
Description:
"The Southwestern and Centerville Railroad boasts a roadbed of less than two miles and runs only on Saturdays — and then to "nowhere." But it undoubtedly provides the favorite ride of all the kids (as well as their equally enthusiastic parents) from the surrounding countryside. In The Fresh Milk Line, Roy Fulmer, jr., records the operation of this narrow gauge railroad on a dairy farm in New Jersey, run as a hobby by the owner of the farm. Closeups of the working of the Diesel engine, the switches and signals add technical interest; while the sequence of laying a new piece of track by presumably adult employees on the farm makes it apparent that the men enjoy "working on the railroad" as much as would any youngster. Here is one film whose interest would have been heightened by a musical accompaniment with sound effects." Movie Makers, Dec. 1951, 412.
---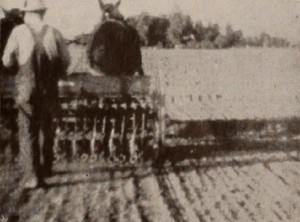 Date produced: 1947
Filmmaker(s):
Description:
"To impart life and interest to a film about growing alfalfa requires more than ordinary patience and perseverance. Mildred J. Caldwell has supplied these in her picture, Green Gold. Filmed throughout the year, it shows the plowing, seeding, mowing, bundling and threshing, to create a story with depth and perspective. There were times when the movie maker had to climb on stacks of baled alfalfa or ride on a lumbering machine while it performed some vital operation in the culture of alfalfa. Hemet Valley, in California, was the setting, providing pleasant scenic backgrounds for the different operations." Movie Makers, Dec. 1947, 537-538.
---
Date produced: 1937
Filmmaker(s):
Description:
"A story of an orange grower's everyday life, of his unending battle with pests." American Cinematographer, Nov. 1940, 498.
---
Date produced: 1947
Filmmaker(s):
Description:
"Item is a film of a trip to Hawaii taken by Dr. Willinsky and his wife, Sadie. In the form of a travelogue, footage of Hawaii's landscape, vegetation, landmarks and local population is interspersed with captions that were added in by Dr. Willinsky to provide information about the country's culture. Footage includes shots of sites around Honolulu and Waikiki, surfers, Hawaiian flowers, churches and temples, sugar cane farming and singers performing outside a hotel. Sadie is occassionally spotted exploring the sites and interacting with locals."
---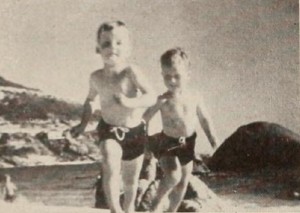 Date produced: 1947
Filmmaker(s):
Description:
"From Capetown, South Africa, comes Help Yourselves, Boys!, by Lewis Lewis, a charming record of two handsome youngsters and their father engaged in planting, growing and harvesting zinnias. Using many effective angles and double exposed titles, Mr. Lewis relates a plausible tale of his boys raiding the grape arbor, being caught, and finally having their exuberance turned toward flower growing. Since the newly hatched garden is situated close to the ocean, the scenic backgrounds are startling as well as pleasant. Rich, black earth and flaming orange zinnias provide an attractive setting for an engaging family movie." Movie Makers, Dec. 1947, 538.
---
Date produced: 1943
Filmmaker(s):
---
Date produced: 1935
Filmmaker(s):
Description:
"The Making of Canadian Homespun, by Duncan Mac D. Little, ACL, is a distinctly novel cinematographic achievement because it is an al fresco industrial film depicting a process of manufacture that normally is largely performed indoors. In addition, it is a uniquely valuable contribution to folk way records, listing, as it does, in a lovingly made film inventory, the steps involved in the production of homespun cloth by a geographically sequestered population which maintains one of the last stands of homely folk craft on the North American continent. Mr. Little's picture was made in summer in a region lacking facilities for indoor lighting. It compresses seasonal activities into the space of a few days, showing sheep shearing, preparation of the wool and its spinning and weaving. For this purpose, a spinning wheel and loom were set up in the open by the country people of the locality, who cooperated happily with Mr. Little. Not only is this ancient process preserved in an exceptional film record but, at the same time, there are offered many character studies of exceedingly individual French Canadians." Movie Makers, Dec. 1935, 551, 553.
---
Total Pages: 5