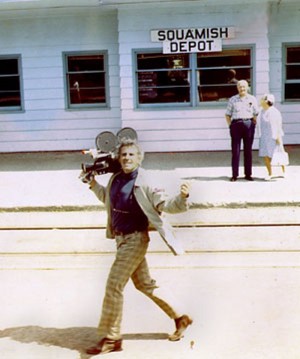 Karl Spreitz
Gender:
Male
Awards/Recognition:
BC Archives list of titled amateur films
Films:
Profession:
Artist
Biographical Notes:
"Karl Spreitz began his artistic practice in the 1960s after immigrating to Canada from Austria. Collaborating with many of Victoria's artists, he explored various media, including printmaking and collage under the mentorship of Herbert Siebner. However, it is his film contributions that distinguished his artistic career. His debut of Spring Steelhead (1964) with fellow artist Richard Ciccimarra at Victoria's International Film Festival was awarded for its realistic depiction of fly-fishing on the Cowichan River. In contrast, Don't (1965) shows his more experimental work and pokes fun at social conventions. Spreitz, with his ever-present wit, was at the centre of a social circle of artists. His vocation as a professional photographer and TV cameraman allowed him to capture the conversations, working processes, and studios of his artist friends" University of Victoria Legacy Art Galleries.
Bibliographic Resources:
"Karl Spreitz." Making a Scene: Victoria's Artists in the 1960s, University of Victoria Legacy Art Galleries.
Karl Spreitz and Collaborators Archival Film Collection.