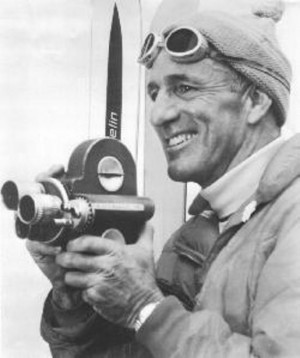 John C. Jay, Jr.
Club Affiliation
Gender:
Male
Awards/Recognition:
Eleventh Annual Little Movie Party, 1940
Films:
Profession:
Publicity Director
Biographical Notes:
"John Jay was a leader in the production of ski films, pioneering in the field that eventually opened to other great ski film makers like Warren Miller and Dick Barrymore. He was a legend shooting his films with a hand held camera, doing his own editing then showing his films to live audiences in the fall around the country while making a name for himself with his humorous style that captured the fun and excitement of the sport."
From Williamstown, MA.
Bibliographic Resources:
"John Jay," 1981 US National Ski Hall of Fame, Honored Members - U.S. Ski and Snowboard Hall of Fame Museum.
"Program Notes," Eleventh Annual International Show of Amateur Motion Pictures (1940), Margaret Herrick Library.
See website: John Jay Ski Films