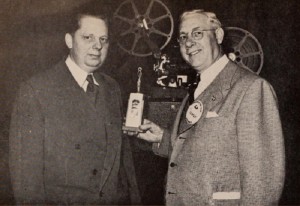 Elmer Albinson
Club Affiliation
Gender:
Male
Awards/Recognition:
ACL Ten Best 1947 - Honorable Mention General Class
ACL Ten Best 1948
ACL Ten Best 1950
Films:
Profession:
Funeral Director
Related Professional Works:
Biographical Notes:
"Elmer Albinson was born August 8, 1906. An early enthusiast in motion picture filming, he is credited with purchasing film from the first lot of color film to reach Minnesota in 1933. He traveled extensively, visiting and filming other places and cultures. In 1936 he married and spent his honeymoon filming in the jungles of Ecuador.
A funeral director by profession, he was named director of the American Swedish Institute in 1954. Around that time, the Minneapolis Star newspaper named him one of the country's top avocational filmmakers. His film, "Lake Superior Landscape," won him a host of awards, and "Homespun," a documentary of Swedish weaving, went on to be nationally distributed. Albinson was a charter member of the Minneapolis Cine Club and won several awards there for his films. He died on February 16, 1980." Minnesota Historical Society.
Bibliographic Resources:
The Elmer Albinson Film Collection, Minnesota Historical Society.