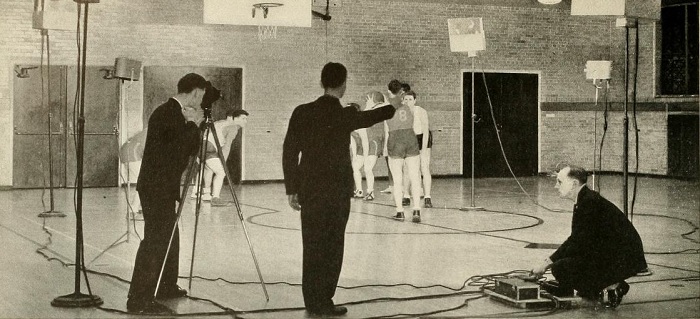 Date produced: 1935
Filmmaker(s):
Production credits:
Languages:
English
Length:
400 ft
Format:
16mm
Colour:
B&W
Sound Notes:
Silent
Awards/Recognition:
ACL Ten Best 1935, Honorable Mention
American Cinematographer Amateur Movie Makers Contest, 1935 - Honorable Mention
Description:
"Y West Side, the joint production of Robert Coles, ACL, who directed the film, and Charles Coles and Edwin Schwarz, ACL, who photographed it, is a very successful publicity picture for the West Side Y. M. C. A. in New York City. Starting with the social and dormitory facilities of the "Y," the film carries the audience on a tour of gymnasiums, special exercise rooms, roof courts and pools. The abundance of athletic and exercise equipment is shown clearly in sequences of their use, and the carefully planned action throughout the picture maintains interest and continuity. This film is distinguished by excellent photography and by the successful solution of the innumerable problems in handling large scale interiors and group action. Ingenious adaptations of games and exercises were sometimes required in order to fit the scene to the camera field, determined by the exigencies of the space available. The talents of the three producers were so integrated as to make the enterprise an outstanding success." Movie Makers, Dec. 1935, 555.
Resources:
The Coles brothers discuss the film in "We Film the 'Y' " (Movie Makers, April 1935, 156, 177, 179).

Discussed in "Practical Films" (Movie Makers, Feb. 1935, 76).
Locations:
Subjects:
Genre:
Form:
Screenings:
Presented by Roy W. Winton for New York University in 1935: New York City, N.Y.
Screened by the Metropolitan Motion Picture Club in 1935: New York City, N.Y.
---
Do you know where this film is? Get in touch with us at amdb@ucalgary.ca.