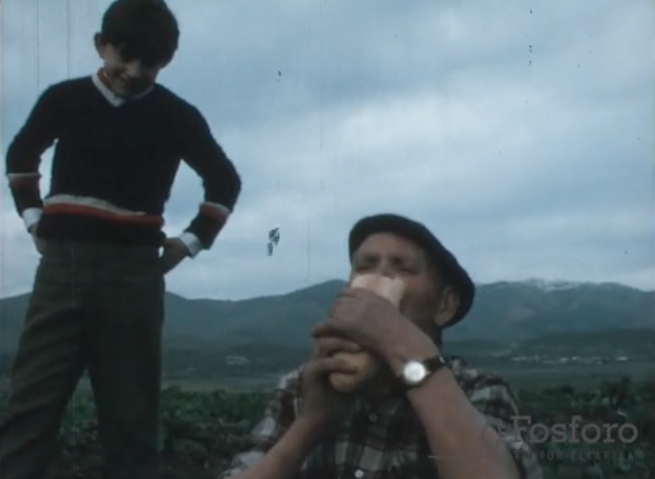 Date produced:
Filmmaker(s):
Production credits:
Format:
Super8
Colour:
Colour
Sound Notes:
Magnetic
Awards/Recognition:
This film is part of the Basque Films Project.
Description:
Después de que su padre parte al trabajo, un pequeño niño debe llevarle pan y vino. Sin embargo, el niño se toma mucho tiempo vistiéndose y jugando con una botella en un lago. Su madre le pide apurarse y en el camino el niño bebe el vino y rellena la botella con agua, se esconde para ver a una pareja besarse, le da a su padre el pan y después interrumpe a unos niños jugando. Mientras juegan a esconderse, él se lleva a una niña lejos y la besa, para después seguir huyendo y esconderse en un establo momentáneamente. Al caminar hacia las vías del tren, piensa en todo lo que ha hecho, y se acuesta ahí con los ojos vendados pero al reflexionar sobre sus acciones decide regresar a casa con su madre.

After his father leaves for work, a little kid has to bring him bread and wine. However he takes his time getting dressed and playing with a bottle in a lake, then his mother prompts him to hurry and on the road he drinks the wine and re-fills the bottle with water, he watches a couple kissing, then he gives his father the bread and interrupts some kids playing, then while playing hide and seek he takes a girl far away and kisses her and he keeps running away, staying hidden in a barn for a while. Then he walks to the train tracks and starts thinking of all he has done, so he lays there with his eyes blind folded but after thinking about his doings he goes back home to his mother.
Subjects:
Form:
Tags:
---