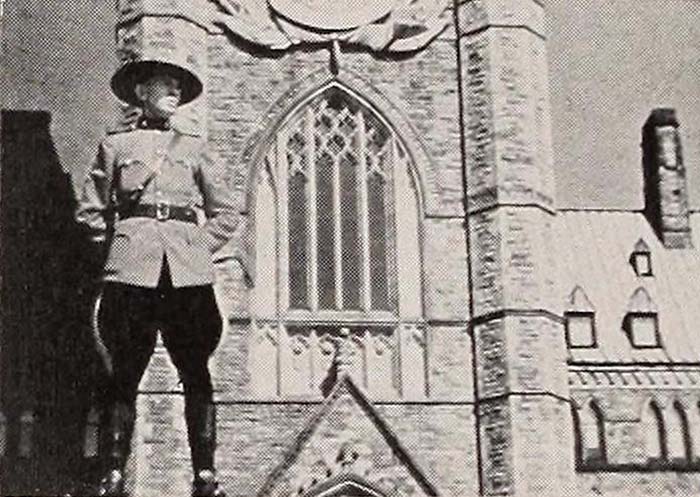 Identifier:
1976-0211 (Source: http://www.bac-lac.gc.ca/eng/discover/films-videos-sound-recordings/film-video-sound-database/Pages/item.aspx?IdNumber=192660)
Date produced: 1939
Filmmaker(s):
Languages:
English
Length:
2600 ft
Format:
16mm
Colour:
Kodachrome
Sound Notes:
Silent
Awards/Recognition:
ACL Ten Best 1939 - General Class, Archived by Library and Archives Canada
Description:
"Sweeping in its conception, stirring in its execution, Then Came the King is a vivid and beautiful epic of honest patriotism. In it, Earl L. Clark has examined the Western way of life, and he has found it good. With elaborate but never exhausting detail, the film traces the history of Canada — and more briefly her American neighbor — from 1800 to the present day. Then, in a world challenged by war and a Canada accused of waning fealty to the Empire, Then Came the King pictures with a magnificent climax the deep and unfaltering affection in which a loyal people hold their rulers. People of all classes and occupations are shown saluting Their Majesties. Sensitively planned and superbly titled, the film very definitely has something to say — and says it with distinction. Viewpoint after viewpoint strikes sensuously on the eye as exactly right for the effect desired. Sequence after sequence marches down the screen with the brave and stirring rhythms of epic poetry. On a few occasions, Mr. Clark's striking imagination has outstripped his straining technical skill, but. from his first frame to his last, the work is stamped unerringly with a fresh and genuine creative spirit." Movie Makers, Dec. 1939, 632.
Resources:
Library and Archives Canada.

Discussed by Clark in "Then Came the King" (Movie Makers, May 1940, 216-217, 233-236).
Locations:
Fort Henry, Ontario (Filming)
Fort Erie, Ontario (Filming)
Fort Frontenac, Quebec (Filming)
Montreal, Quebec (Subject)
Ottawa, Ontario (Filming)
Niagara Falls, Ontario (Filming)
Subjects:
Genre:
Form:
Tags:
Repository:
Earl L. Clark Collection, Library and Archives Canada
Screenings:
Screened by the Toronto Movie Club in 1943: Toronto, ON
Viewing Notes:
"The historic background of Canada is illustrated through footage of: the Canadian wilderness; primitive cabins; historic forts including Fort Henry guards in mock battle against invisible Americans, Fort Erie, and Fort Frontenac; and a border crossing point. Also shown are Boy Scouts and religious statues and churches in Montreal.
Sequences on: a parade in honour of newly-crowned King George VI, 12 May 1938; Parliament Hill and the Parliament Buildings; Canadian Forces in training with marching men, charging cavalry, artillery in repose, airmen and Harvard trainers, Fleet Finch, and a Dakota and a red civilian Cub in flight; preparations for the Royal visit; and views of the Royal Train.
Footage of: the construction of Queen Elizabeth Way; Ottawa, including buildings and the war memorial; and the home of William Lyon Mackenzie with a commemorative plaque.
Shots of: Niagara Falls; naked boys diving into a swimming hole; street cars in Ottawa; crowds; and the Highlanders marching.
Sequences on: a cross-section of Canadian industry; "blood" spattered newspaper announcing the declaration of war; a recruiting drive; a "soldier" acting mean; the construction of a war plant; and a montage of Canadian industry including lake shipping, logging, etc. Final sequences on a war cemetery and the Canadian army in training"
Library and Archives Canada
.
---