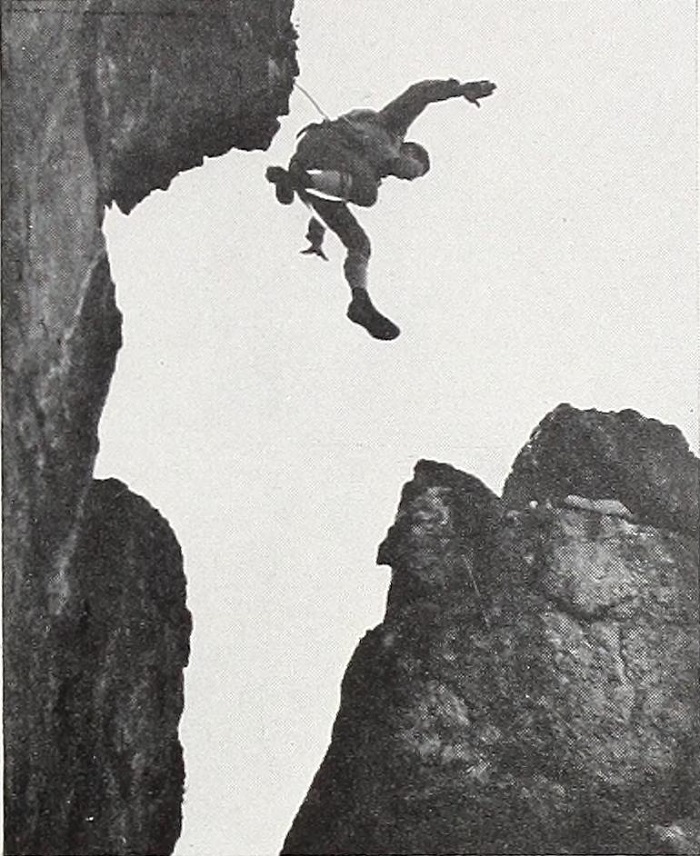 Date produced: 1936
Filmmaker(s):
Languages:
English
Length:
800 ft
Format:
8mm
Colour:
B&W
Awards/Recognition:
ACL Ten Best 1936 - Honorable Mention General Class
Description:
"The Mountaineers Club Teton Expedition, made by Ray Garner, tells the story of several young men who did some real mountain climbing among the peaks of famous Western mountains. A most interesting introduction, showing briefly the various types of climbing, prepared the audience for some of the amazing sequences later on. Remarkable attention to human interest details sustains the entertainment quality throughout and, when the actual climbing starts, the thrills are second to none. The agility of the cameraman contributed greatly to the effectiveness of the film." Movie Makers, Dec, 1936, 550.
Resources:
"The time they were trapped overnight on a slim, cold ledge of rock on the north face of Nez Perce was about the only thrill that Ray Garner, ACL, and his three companions failed to bring back from Grand Teton National Park in 600 feet of fine 8mm. film. The complete membership of the Mountaineers Club — four young, adventurous but extremely able assistant scout masters from Brooklyn, N. Y. — had planned the expedition for years, dreaming over maps, mulling over equipment and perfecting their youthful skill. During four long years, they had practiced, in their spare time, the technique of mountain climbing, taught them by Fritz Wiessner, from Germany, on the rocky cliffs of the Hudson River's Palisades. R. L. M. Underhill, famous climber of the Appalachian Mountain Club, had helped them with countless expert tips through correspondence. At last, in the summer of 1935, they felt ready for the great adventure. An old flivver carried them in less than a week to a base camp in Teton Park. From there, they attacked and conquered eleven peaks in just seven days, climbing one, two and finally three a day. It was during this last valiant splurge of climbing that darkness caught them only half way down Nez Perce. In their film of the expedition, Mr. Garner has wisely prefaced his record sequences with an educational outline of climbing technique" ("Closeups," Movie Makers, Aug. 1936, 349).

AFANA states that this is a lost film.
Locations:
Grand Teton National Park, WY (Subject)
Subjects:
Genre:
Form:
Tags:
---
Do you know where this film is? Get in touch with us at amdb@ucalgary.ca.