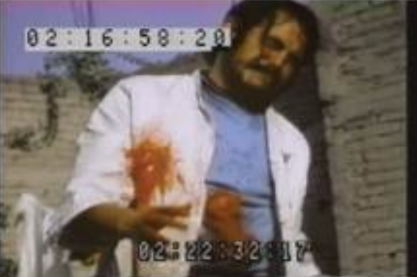 Date produced: 1970
Filmmaker(s):
Languages:
Spanish
Format:
Super8
Colour:
Colour
Sound Notes:
Unknown
Awards/Recognition:
Honors mention in the Second Independent National Film Contest, 1971
Description:
"El paletero cuenta la historia de un vendedor de helados y paletas (Héctor Suárez) que recorre las calles de la ciudad. Es simpático: juega volados con los niños, conversa amistosamente con una criada que ha salido a la calle para hacer el mandado (July Furlong). De pronto un grupo de policías judiciales, vestidos de civil, deciden acosarlo. Se acercan intimidantes a la pareja. Rompen los conos de galletas para helado. El paletero siente pánico y huye por las calles de la ciudad. Es perseguido por los judiciales. Intenta esconderse en las ruinas de una casa abandonada, donde es seguido por uno de los policías. Luchan y el paletero consigue quitarle la pistola. Amenaza al policía y reemprende la huída. Al final encuentra un nuevo escondite en una vecindad. Presa del pánico, el paletero dispara sobre sus perseguidores, hiriendo a dos. Los policías lo ejecutan, y de paso matan a un niño que jugaba en el patio de la vecindad y que había quedado situado en medio del tiroteo" (Vázquez Mantecón, 2012).

El paletero [The popsicle man] tells the story of an ice cream and popsicles seller that goes around the city streets. He is nice: he plays coin toss with children, talks kindly with a maid that has left the house to run some errands. Suddenly a group of policemen, dressed as civilians, decide to harass him. They approach the couple in an intimidating manner. They break the ice cream cones. The popsicle man feels panic and runs away through the city streets. He is chased by policemen. He tries to hide in the ruins of an abandoned house, where he is followed by one of the policemen. They fight and the popsicle man takes his gun. He threatens the policeman and starts running away again. At the end he finds a new hiding spot in a vicinity. Overcome by panic, the popsicle man shoots wounding his persecutors. The policemen execute him, and they also kill a child of the neighborhood that was caught up between the shooting" (Vázquez Mantecón, 2012).
Resources:
Vázquez Mantecón, Álvaro. El Cine Super 8 en México 1970-1989 . Filmoteca UNAM, 2012. Find this book in Filmoteca UNAM Docs
Locations:
Subjects:
Genre:
Form:
Tags:
---