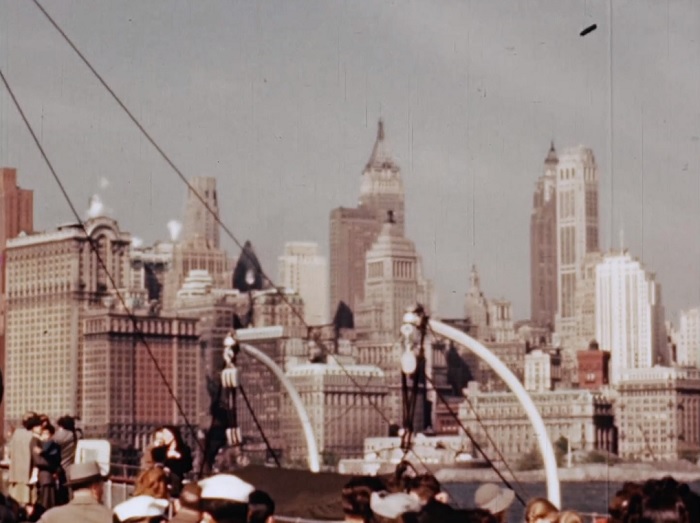 Date produced: 1942
Filmmaker(s):
Production credits:
Languages:
English
Length:
800 ft
Format:
16mm
Colour:
Kodachrome
Sound Notes:
Optical
Sound:
Sound on film.
Awards/Recognition:
ACL Ten Best 1942 - Honorable Mention Special Class
Description:
"Most of the residents of New York City know that the world's metropolis is something more than a play place for sensation hunters. But, if one were to judge from many films of New York City, the conclusion would be inevitable that the urban settlement at the mouth of the Hudson River is chiefly devoted to night clubs and parades and is populated largely by those who frequent them. In New York Calling, made for the New York Central System, of which he is supervisor of the Motion Picture Bureau, Frederick G. Beach has presented the New York Central's eastern terminal city as a reasonable and understandable place, where sane people live and to which a man may bring or send his family for a holiday without wondering if they will survive the experience. Made for showing to families, Mr. Beach's excellent Kodachrome footage covers the best of New York City with an apparently effortless leisure, in spite of its brevity. Including many different phases of a great city, the picture has a generous amount of well made closeups. Things that will interest children are strikingly presented. If this reviewer did not already live in New York City, Mr. Beach's movie, with excellent narrative and music, would be the best possible argument for him to change his residence. It certainly will prove to be persuasive in the days when railroads can again urge us to travel for pleasure." Movie Makers, Dec. 1942, 508-509.
Resources:
This film is held by the Library of Congress. See more information on its NFPF record.

Reviewed in Business Screen Magazine (no. 2, 1942, 15), in "Free Film Reviews" (Movie Makers, May 1942, 188), and in "New Films of the Month" (The Educational Screen, May 1942, 195). Also discussed in "Practical Films" (Movie Makers, May 1942, 198), where several film stills are shown.

A revised version of this film from 1947 is titled On the Town (Movie Makers Feb. 1947, 82).

The film was available in the ACL's Club Film Library.
Locations:
New York City, New York (Filming)
Subjects:
Genre:
Form:
Repository:
Library of Congress
Screenings:
Screened by the Torrington Cinema Club in 1944: Torrington, CT
Screened by the Winnipeg Cine Club in 1945: Winnipeg, MB
Screened by the Berkshire Museum Amateur Movie Club in 1949: Pittsfield, MA
Screened by the 8mm. Movie Club of Rochester in 1950: Rochester, N.Y.
Viewing Notes:
"In fast-moving sequences,
New York Calling
brings the visitor down the scenic Hudson River Valley via New York Central into Gotham. The film then takes its audience on a boat trip 'round Manhattan, which is followed by a bus ride up Fifth Avenue and visits to museums, parks, Coney Island, the Bronx Zoo, Rockefeller Center, the tops of skyscrapers and many other points of interest. It ends with the traveller en route back home."
Business Screen Magazine
(no. 2, 1942, 15).
Video Link:
---