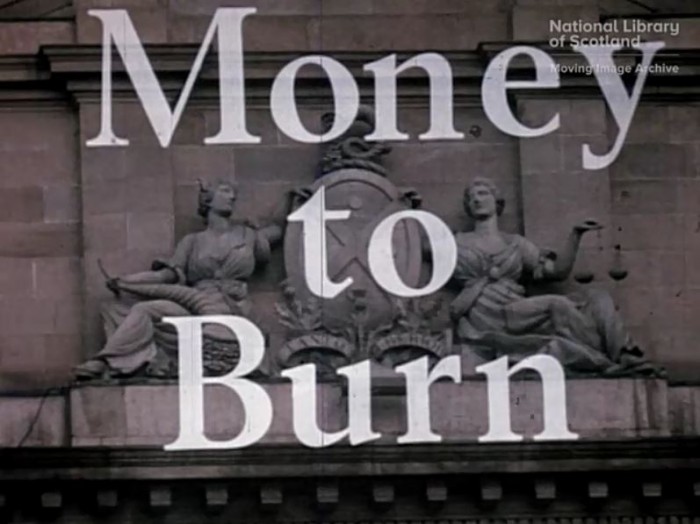 Identifier:
0324 (Source: http://movingimage.nls.uk/film/0324)
Date produced: 1967
Filmmaker(s):
Languages:
English
Format:
16mm
Colour:
Colour
Sound:
Sound
Awards/Recognition:
PSA Ten Best 1967 - Honorable Mention
Description:
"Money to Burn, believe it or not, comes from Scotland, where, if you can believe it, they burn money. But not until it is worn out and counted by a series of bank tellers. Then it goes up in smoke in this well-put together documentary" PSA Journal, Aug. 1967, 37.
Resources:
A second version of the film was made in 1976 with the same format and sequence of events as Version 1, but up-dated to 1976. £5 notes used in place of £1 notes (National Library of Scotland).

According to the filmmaker's obituary, the film "won no fewer than 13 awards, including a Gold in the National Film Theatre "Ten Best", the Documentary Award in the Australian International Gold Cup and a Silver Medal at the Cannes Amateur International Festival. Extracts have also been screened by BBC and Channel 4. Some years ago, London Press reported that, when the film was shown in Wandsworth Prison, the inmates couldn't stand the sight of 750,000 going up in smoke and, when the lights came on, there wasn't a dry eye in the house!" (The Scotsman, Thurs. Dec. 20, 2001).
Locations:
Edinburgh, Scotland (Filming)
Subjects:
Genre:
Form:
Repository:
Moving Image Archive, National Library of Scotland
Viewing Notes:
"Credits (0.21); Shot of notice outside Inland Revenue office (0.27); Scenes of a race course, bookies' stands and horses racing (0.41); Man lighting a cigar with £1 note (0.48); Exterior and then interior of a branch of the Bank of Scotland. Shots of teller's booth and money passing back and forth (1.40); Worn and ripped notes are bundled up and sealed. Shot of the head office building on the Mound in Edinburgh (1.49); Machine punches two holes in the bundles of notes. Notes checked and sealed in bundles of 1000 (2.31); Furnace in the basement. Five bank officials from Accounting, and the Director, Secretary and Governor arrive and a last minute random check is carried out. The furnace is fed with notes. [The men checking the notes are the Bank Inspectors (Internal Auditors). One of them (second from right) is John G Hunter] (6.07) Register is signed confirming the quantity and time taken to burn it (6.52); Shots of smoke rising from a chimney above the bank. View of Edinburgh (7.05)" via the National Library of Scotland.
Video Link:
---