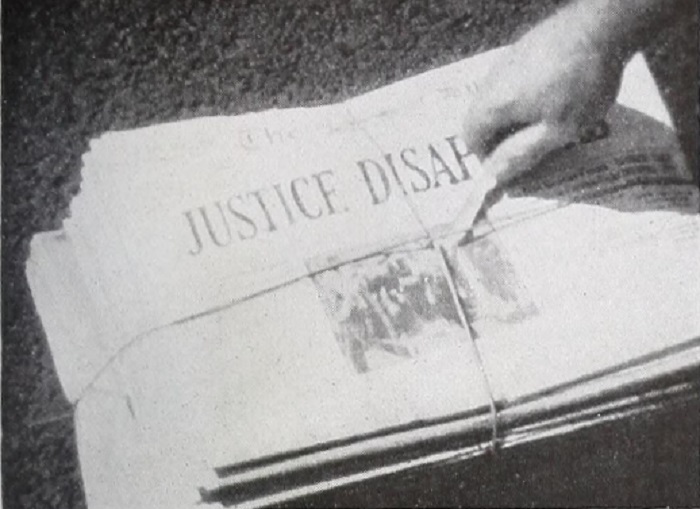 Date produced: 1944
Filmmaker(s):
Production credits:
Languages:
English
Length:
1200 ft
Format:
16mm
Colour:
Kodachrome
Sound Notes:
Silent
Sound:
With music and special declamation on disc.
Awards/Recognition:
Hiram Percy Maxim Memorial Award 1944, ACL Ten Best 1944 - General Class
Description:
"The 1944 Hiram Percy Maxim Memorial Award film, In His Own Judgement, is the distinguished expression of the mature thought of a generous, broad and rich mind. With all the individualism of Henry Thoreau, whose philosophy the picture exemplifies, Joseph J. Harley has lifted up his eyes unto the hills and to the lonely places of nature and has brought from them a finely sincere, dramatic story that declares his own credo of man's healing.The tale is simple. A jurist, on the verge of a nervous collapse, disappears and finds refuge from terror and confusion in a lonely wooded retreat. Almost identified, after some years, by two young girls who meet him by chance, he tells them the tale of "a missing judge" in retrospective sequences. Although nearly convinced that he is the long sought man, they decline to earn the reward offered for news of him and leave him in peace. In cinematography, direction, action, dramatic construction and realization of beauty, Mr. Harley's film is of high quality. The tense horror of the overworked jurist in the crowded city is followed by the rest which he finds in solitude. The words of the Psalms comfort him and bring him "peace at the last." They are exquisitely read in a special recording. Mr. Harley was greatly aided in his two long years of labor on the picture by the fine and sincere work of his brother in law, Charles Hooker, who assumed the role of the judge with authority and restraint. The whole film is beautifully integrated by phonograph with the music of Dvorak's violoncello concerto in B minor, Liszt's Les Preludes, Goldmark's Rustic Wedding Symphony, Brahms's Tragic Symphony, Sibelius's Karelia Suite and one of the Slavonic dances of Dvorak. These provide the sole musical contribution. Mr. Harley, an engineering executive for a large corporation, has put into this remarkable film a breadth of culture acquired in two continents, the authority of a man who has looked at life and has come to conclusions about it and the creative fire and disciplined achievement of a real artist." Movie Makers, Dec. 1944, 476-477.
Resources:
Harley discusses the conception of the film's story in "Earning the Maxim Award" (Movie Makers, Jan. 1945, 12-13, 26).
Locations:
Subjects:
Genre:
Form:
Screenings:
Screened for 400 members of the Boy Scouts of America in 1945: Flushing, N.Y.
Screened by the Metropolitan Motion Picture Club in 1945, 1946, and 1947: New York City, N.Y.
Screened by the Bell Laboratories Motion Picture Club in 1945: New York City, N.Y.
Screened by the New York 8mm. Motion Picture Club in 1945 and 1946: New York City, N.Y.
Screened by the Brooklyn Amateur Cine Club in 1945: Brooklyn, N.Y.
Screened by the Hartford Cinema Club in 1945: Hartford, CT
Screened by the Mount Vernon Movie Makers in 1945: Mount Vernon, N.Y.
Screened at the annual Adirondack Craftsmen's Exhibit in 1945: Harrietstown, N.Y.
Screened by the Cine Group of the Schenectady Photographic Society in 1948: Schenectady, N.Y.
Screened by the Amateur Movie Society of Bergen County in 1952: Bergen County, N.J.
Screened at a PSA convention in 1952: New York City, N.Y.
Screened by the Los Angeles Cinema Club in 1953: Los Angeles, CA
---
Do you know where this film is? Get in touch with us at amdb@ucalgary.ca.