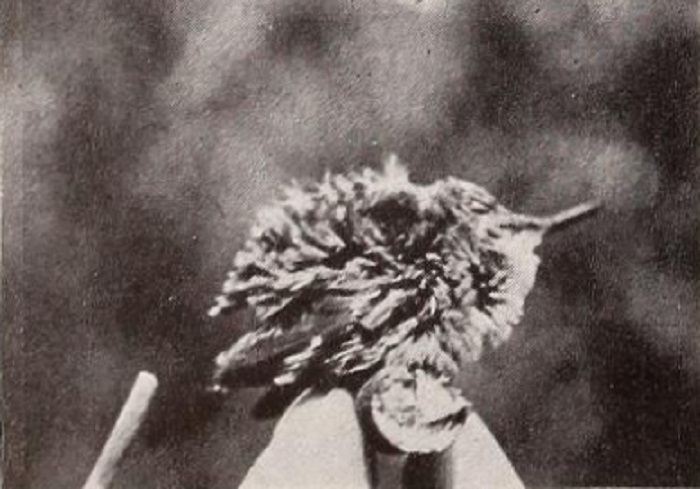 Date produced: 1940
Filmmaker(s):
Languages:
English
Length:
400 ft
Format:
16mm
Colour:
Kodachrome
Sound Notes:
Silent
Awards/Recognition:
ACL Ten Best 1940 - General Class
Description:
"Shakespeare tells us that Owen Glendower said that he could summon spirits from the vasty deep; Archimedes boasted that, with the right kind of lever and fulcrum, he could move the Earth. But, did either of them ever tackle hummingbirds? E. R. Hoff, in Hummingbirds, not only tackled them but, apparently, he so charmed them that they flew where and when he wanted. As a result, whoever sees his film will know more about the ways of the almost invisible aerial dynamo than he has ever believed that anybody could know, short of being a hummingbird himself. This film is not only a revelation of incredible patience and determination, but it is cinematographically an accomplishment of genuine intelligence. Mr. Hoff has called our attention to the control of composition, sequence and background quality, evidently because he feared that they might be taken for granted. It is precisely because of these factors that Hummingbirds placed in the Ten Best. It is beyond the limits of this rating of Movie Makers to attempt to find an adequate laurel for the superb achievement of the naturalist which Mr. Hoff is. At any rate, the next time we see a flash of color on a summer afternoon, we can say, "What now, little bird? We know what makes you go round." " Movie Makers, Dec. 1940, 600.
Resources:
Discussed by Hoff in "Bird Films Need Patience" (Movie Makers, Sept. 1943, 332-333, 352). The article states Hummingbirds was shot over three summers in the Colorado Rockies, and outlines Hoff's method for photographing birds.

The film is advertised with the title The Hummingbird in "Films You'll Want to Show" (Movie Makers, June 1941, 254).
Locations:
Rocky Mountains, Colorado (Filming)
Subjects:
Genre:
Form:
Tags:
Screenings:
Screened by the Rockford Movie Makers in 1940: Rockford, IL
Screened by the Tri-City Cinema Club in 1941: Moline, IL
---
Do you know where this film is? Get in touch with us at amdb@ucalgary.ca.