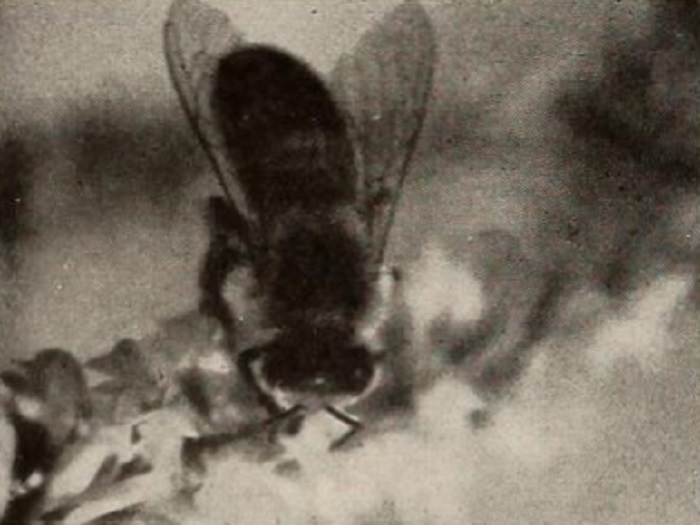 Date produced: 1944
Filmmaker(s):
Languages:
English
Length:
700 ft
Format:
16mm
Colour:
Kodachrome
Sound Notes:
Silent
Sound:
With music on disc.
Awards/Recognition:
ACL Ten Best 1945 - General Class
Description:
"If you have never thought much about the communal effort that produces your breakfast honey, you will find a whole new world of careful organization set forth in William W. Vincent, jr.'s movie. If you have read about this world, you will realize the very great accomplishment of the filmer of Honey Harvest, as you see his picturization of the regimented and incredibly organized bee communities. By means of amazing closeups, Mr. Vincent identifies the various workers, shows them at their hard tasks and lets us see the queen bee, the drones, the nectar scouts, the farmers, the nurses and all the complex bee classes. Nectar is sipped and collected; it is used or stored until, finally, man takes the residual product for his own use. A breakfast sequence of great compositional charm begins and ends this highly unusual record." Movie Makers, Dec. 1945, 494.
Resources:
Discussed by Vincent in "Starring Honey Bees" (Movie Makers, Sept. 1946, 344, 359-362). The filmmaker describes the difficulties faced when filming bees. Film stills are shown.

The film won the "Grand Award" in a Kenosha Movie Makers Club film contest in 1944 (Movie Makers, Jan. 1944, 16). It was also the first award winner for 16mm. films in an Associated Amateur Cinema Clubs contest in 1947 (Home Movies, Nov. 1947, 714).

The film was reportedly distributed by the Wisconsin State Horticultural Society in 1947 (Movie Makers, April 1947, 156). It was also televised on an amateur movie program called Reel Adventures in 1952 (Movie Makers, Jan. 1953, 12).
Subjects:
Genre:
Form:
Screenings:
Screened by the Kenosha Movie Makers Club in 1944: Kenosha, WI
Screened by the Ra-Cine Club in 1944: Racine, WI
Screened by the Amateur Movie Society of Milwaukee in 1944 and 1945: Milwaukee, WI
Screened by the Metro Movie Club in 1946: River Park, IL
Screened by the Brooklyn Amateur Cine Club in 1946: Brooklyn, N.Y.
Screened at the Wisconsin State Beekeepers Association in 1947: Milwaukee, WI
Screened at a national beekeepers convention in 1947: Tampa, FL
Screened by the Associated Amateur Cinema Clubs in 1951: Chicago, IL
---
Do you know where this film is? Get in touch with us at amdb@ucalgary.ca.