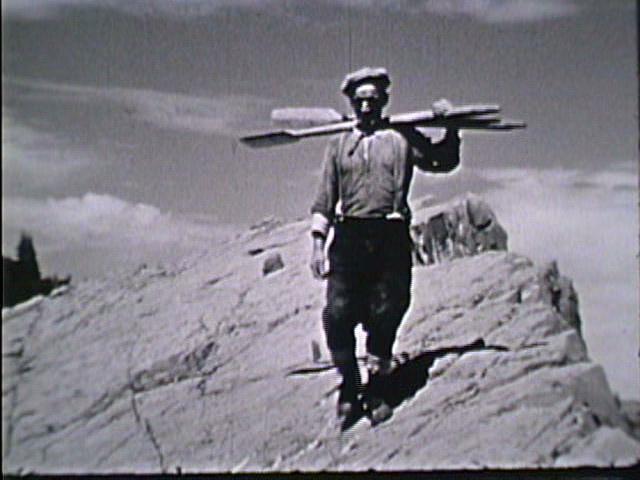 Date produced: 1935
Filmmaker(s):
Languages:
English
Duration:
00:12:00
Length:
300 ft
Format:
16mm
Colour:
B&W
Sound Notes:
Silent
Awards/Recognition:
ACL Ten Best 1935
American Cinematographer Amateur Movie Makers Contest, 1935 - Honorable Mention
Description:
"In Fishers of Grande Anse, Leslie P. Thatcher, ACL, has compiled a vivid and crystal clear cinematic document of cod fishing in a little village in northern New Brunswick. This picture is a restrained work of art that depicts the austere beauty of toil. Repairing boats and nets, catching and cleaning the cod, salting and storing the fish for market and the fishermen leaving for home are the raw material from which this black and white production draws its rugged and satisfying beauty. Close shots and closeups (never affected or forced) comprise the simple devices whereby the irrelevant and possibly distracting material is excluded and whereby the magnificent compositions are achieved. The technical quality of the picture is superb, but probably Mr. Thatcher's greatest accomplishment is in his choice of camera viewpoint." Movie Makers, Dec. 1935, 550.
Resources:
Discussed by Leslie Thatcher in "Continuity Without Scenarios" (Ciné-Kodak News, vol. 14 no. 2, March-April 1938, 1-2).

Discussed by Charles Tepperman in "Uncovering Canada's Amateur Film Tradition: Leslie Thatcher's Films and Contexts" (in Cinephemera: Archives, Ephemeral Cinema, and New Screen Histories in Canada, McGill-Queen's Press: 2014, 48-50).

Mentioned and presented with a frame enlargement in "Closeups" (Movie Makers, Nov. 1935, 498).

The film was available in the ACL's Club Film Library.
Locations:
Grande Anse, New Brunswick (Filming)
Subjects:
Genre:
Form:
Repository:
Toronto Film and Video Club fonds, Archives of Ontario
Screenings:
Screened by the Utah Amateur Movie Club in 1936: Salt Lake City, Utah
Screened by the Staten Island Cinema Club in 1936: Staten Island, N.Y.
Screened by the Cinemat Club of Mt. Kisco in 1936: Mt. Kisco, N.Y.
Screened by the Davenport Cinema Club in 1938: Davenport, IA
Screened by the Halifax Cinema Club in 1938: Halifax, NS
Screened by the Jefferson City Cinema Club in 1938: Jefferson City, MO
Screened by the Schenectady Photographic Society in 1940: Schenectady, N.Y.
Screened by the Movie Makers Club of Oklahoma City in 1941: Oklahoma City, OK
Screened by the Tri-City Cinema Club in 1945: Davenport, IA
---