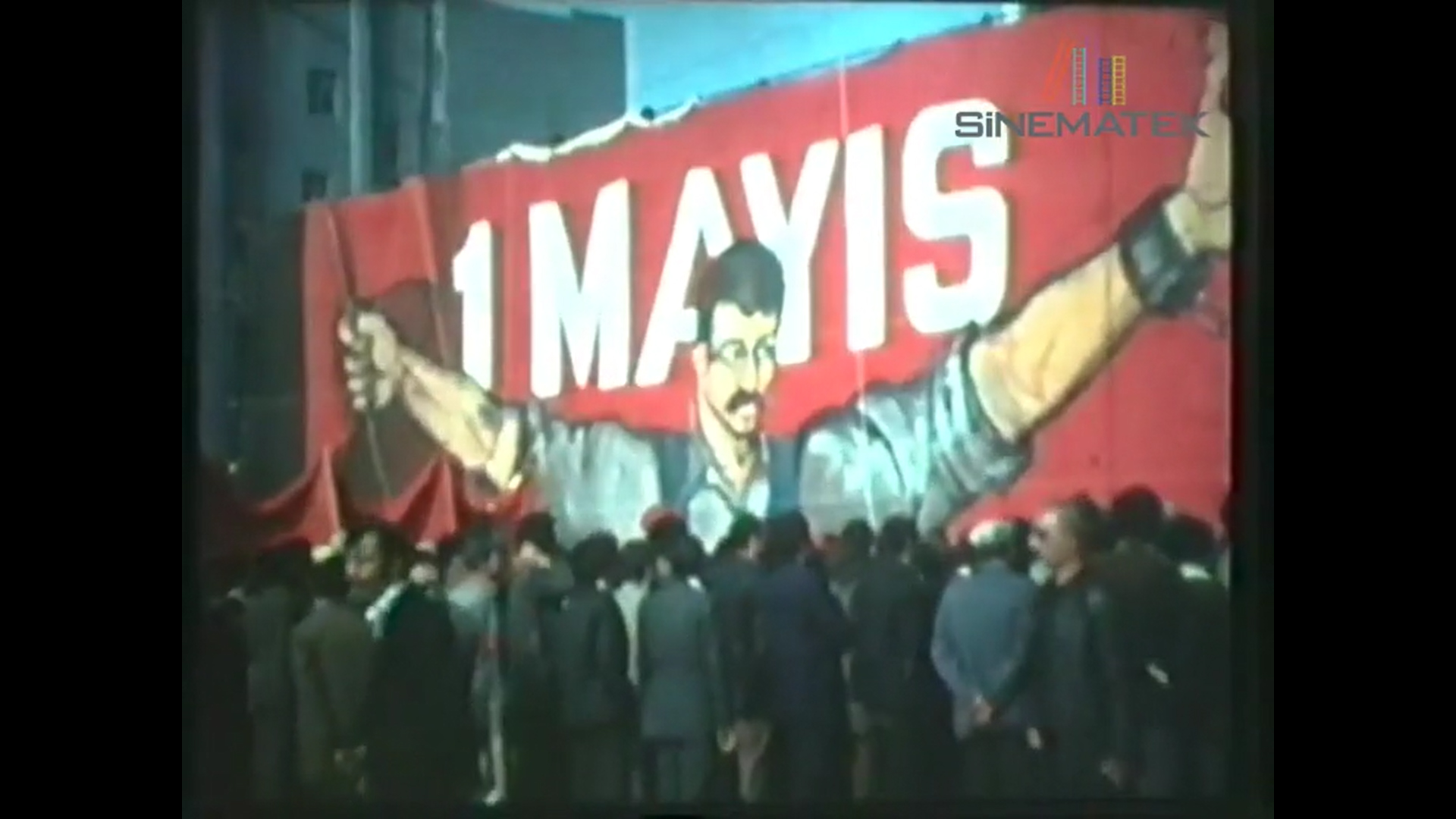 Date produced: 1977
Filmmaker(s):
Production credits:
Country of Production:
Turkey
Languages:
Turkish
Duration:
25 minutes 32 seconds
Format:
8mm
Colour:
Colour
Sound Notes:
Optical
Awards/Recognition:
Sinematek Dijital Sinema Kütüphanesi [Sinematek Digital Cinema Library]
Description:
"Kaya Tanyeri 1 Mayıs 1977 mitingine elinde 8 mm kamerası ile katıldı. Kızı Çağla Tanyeri de ses kayıtlarını alıyor ve babasına yardım ediyordu. Kaya Tanyeri miting öncesi Beşiktaş'taki coşkuyu ve Taksim'e yürüyüşü kaydetti. Taksim meydanına geldiğinde ve "malum" katliam başladığında ne yazık ki çekimi yapamadı. Öncesinde çektikleri ile sonradan yaşanan katliamın fotoğraflarını kullanarak ve "Görevimiz Tehlike" filmine gönderme yaparak kurguladı. Hiç gösterimi yapılmadı. Bu film yıllarca Kaya Tanyeri'nin kişisel arşivinde kaldı. Ta ki bize erişinceye kadar. Biz bu filmi ve Güneşli Bataklık filminin kamera arkası belgeseli olan 'Güneşe Dönük Kamera' isimli 8mm filmlerini dijitalleştirdik. ve işte sizlerle paylaşıyoruz." Sinematek.tv: http://sinematek.tv/1-mayis-77-1977/ (1 November 2019).
"Kaya Tanyeri attended the meeting, 1 May 1977, with an 8mm camera in his hands. Her daughter, Çağla Tanyeri, was assisting the recording as well. Before the meeting, Kaya Tanyeri made a record of the "enthusiasm" in Beşiktaş and the march on Taksim. When they came to Taksim, the infamous massacre was just starting and he could not continue to record everything. Using the former shootings and the photographs of the massacre, he edited the multiple audiovisual resources in reference to the Mission: Impossible. The film has never been screened before and it was stored in Kaya Tanyeri's archive until Çağla Tanyeri found the original material. The original 8 mm film was digitized to share with a larger audience by Sinematek." Sinematek.tv: http://sinematek.tv/1-mayis-77-1977/ (1 November 2019).
Resources:
http://sinematek.tv/1-mayis-77-1977/ (1 November 2019).
Locations:
Beşiktaş/Istanbul (Filming)
Taksim/Istanbul (Filming)
Subjects:
Genre:
Form:
Tags:
Screenings:
It has not been formally screened in a club gathering before. :
Viewing Notes:
The short largely benefits from Kaya Tanyeri's original shots of May Day from which the film's name is derived. The film also uses the historical black-and-white photographs to depict the violence in Taksim/Istanbul during the International Workers' Day. The imagery is synthesized with the sound of various handguns and rifles as well as diverse pieces of Turkish folk music.
The initial sequences of Kaya Tanyeri and Cağla Tanyeri's film are almost a parody of the film series, Mission: Impossible. It is highly likely that this parodic intake was incorporated after Kaya Tanyeri's original juxtaposition of 1977 shootings and black-and-white photographic information.
Video Link:
---